Shopping Basket
Your Basket is Empty
There was an error with PayPal
Click here to try again
Thank you for your business!
You should receive an order confirmation from Paypal shortly.
Exit Shopping Basket
Portland Leadership Institute
Nourish the Leader Within You
Leadership for the 21st Century
| | |
| --- | --- |
| Posted on 8 October, 2012 at 17:37 | |
We are here.  And very happy.
I am beginning this at 4:00 AM Tuesday; both of us are wide awake.  Through the magic of time travel, it is 2:00 PM Pacific time Monday, so you have to live that day.  We are finished with Monday.
The one problem with time travel is the travel itself.  11 hours on the first plane, 2 hours on the ground, and 7 hours on the second plane, counting the time on the ground.  Including ground transportation, 24 hours from leaving our home until checking into the university apartment.  Apartment is great, 2 bedrooms, living room, kitchen, etc.  We can spread out.

After the usual starts and stops about internet, food, and money, we are off to a good start.  We met with university faculty and secretary yesterday, and go to the university today.  I teach at noon, 43 sophomore students in an intro HRM course.  Will be interesting.  Jeanna meets with the ESL people later in the day to see what she'll be doing.

The basic plan in terms of faculty development is to meet with faculty prior to teaching, teach class, and debrief afterwards.  We'll try that for a few days, see if it works.
We had dinner at the local golf resort with Michael Reardon, EIU Co-President and former PSU Provost and Acting President.  Michael gave us a picture of this place, how it has changed.  We are ~30 km north of Ho Chi Minh City, in an area (Binh Duong) that was 70% agriculture 10 years ago, and 4% ag today.  It is bustling, filled with bicycles and small cars; traffic signs and lights apparently are advisory only, so we cross the streets with great care.  Being New Yorkers is helpful, but we must get into practice again.
Learning more about the differences between the north and the south.  Hope to say more about that later.  58 minority ethnic groups in a country of 87 million certainly makes for interesting politics, food, and culture. 

We'll go to Ho Chi Minh City with Michael for the weekend.  Michael knows what to do, so we've got a great tour guide.  Don't know if we'll be able to blog while we're there. There will be the required trip to the Hard Rock.  Perhaps also to the Mekong Delta.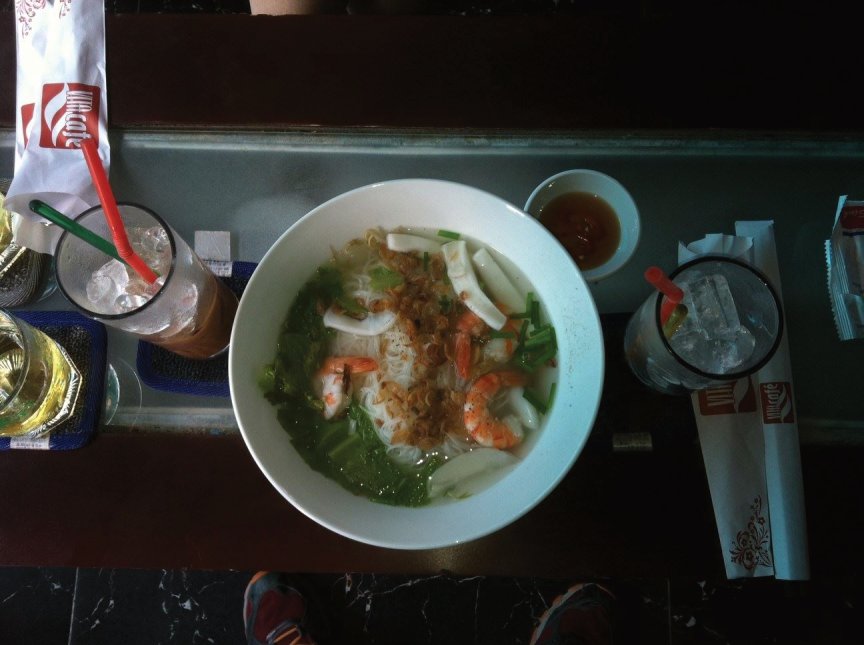 And yes, it is hot here.  Not oppressive, so we are OK.  We see the runners out early in the morning, in groups, some running, some walking, some barefoot, some doing movement. 
Food is great; this is Monday's breakfast. 

OK, I think that's it for now.  Perhaps try to get back to sleep.
Categories: Teaching around the world
/