Shopping Basket
Your Basket is Empty
There was an error with PayPal
Click here to try again
Thank you for your business!
You should receive an order confirmation from Paypal shortly.
Exit Shopping Basket
Portland Leadership Institute
Nourish the Leader Within You
Leadership for the 21st Century
| | |
| --- | --- |
| Posted on 17 February, 2013 at 16:51 | |
We saw Lincoln a few weeks ago.  Aside from some minor historical inaccuracies, it was an incredible story of vision, perseverance, and focus.
For those who knew of Honest Abe only from childhood stories or history classes, Lincoln might have been a shock.  While the movie exhibited his passion for the common person, we also saw a hard driving politician, willing to use some of the same hardball tactics, including buying votes, we abhor in our politicians today.  Those who have studied Lincoln closely, perhaps reading a biography (I am partial to Doris Kearns Goodwin's Team of Rivals:  The Political Genius of Abraham Lincoln) found little surprise here. 

You may recall a prior essay we wrote about LBJ and MLK, based on a play we saw at the Oregon Shakespearean Festival in Ashland.  Although reinforcing perceptions about LBJ, it showed MLK in a new light, casting him as a single minded leader, bent on sacrificing whatever it took in order to achieve his goals.
Lincoln achieved the 13th Amendment.  MLK and LBJ the Civil Rights Act.

Focus.  What does that really mean?
Jim Collins (Built to Last; Good to Great; Great by Choice) has used his career to tell American leaders about focus.  Much of my recent international teachings have built on Collins' work.
Collins takes a simple Greek quote from Archilochus, "the fox knows many things; the hedghog one big thing," and ties it to the concept that the cunning fox cannot catch the simple hedgehog because of the one big thing.  The stodgy hedghog puts its protective spikes out and the fox cannot successfully attack.  The hedgehog survives, and the fox goes hungry..
Focus.  The Hedgehog.  Lincoln, LBJ, MLK.  What does this mean for you?
For a leader we have translated Collins' works into three questions: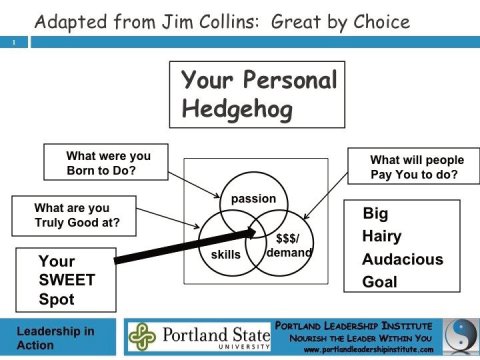 What does this mean for any leader, Lincoln, King, Johnson, or you?  Lincoln is the perfect example:

He was born to free the slaves.  Regardless of whether this was his intent (historians debate the issue) no one before him had this passion.

Skills?  No doubt exists here.
Demand.  1861-1865 was the time.  Both the decreasing financial dependence on slavery and the ethical changes in the north demanded that this was the time.  It couldn't wait. 

So now it's up to you.  What are you supposed to do within your organization, within your life?  Leaders throughout history, perhaps beginning with Hillel 2100 years ago, have asked two simple questions:  "If not us, who?  If not now, when?"
What are you to do, when should you do it?

What is your Big Hairy Audacious Goal?  How will you find the focus to begin this work.  

Both life and leadership become simple when you find your sweet spot..
Categories: Leadership Musings
/