Shopping Basket
Your Basket is Empty
There was an error with PayPal
Click here to try again
Thank you for your business!
You should receive an order confirmation from Paypal shortly.
Exit Shopping Basket
Portland Leadership Institute
Nourish the Leader Within You
Leadership for the 21st Century
| | |
| --- | --- |
| Posted on 8 December, 2012 at 18:12 | |
We've been in Germany for a week.  It's been incredible.  Many ups and downs; what an interesting country, in an enormously different way from Viet Nam or China.  Their roads and speeds are beautiful, they worship the wrong football, their Christmas Festivals are incredible, their taxes are too high, their health care is wonderful, and it's downright cold.  But tonight's story is about their spas.
(spoiler alert:  some of you may be disturbed by what I have to say.  Oh well......)
Europeans and many others have figured out one obvious fact that we Yanks should have realized centuries ago:  the human body is merely a flesh bag, a cover for all that is inside.  Wash it, take care of it, keep it the right temperature, use it to keep the innards sacred.  But don't get uptight about it.
From when we arrived in Heilbronn we looked forward to the first night we would have a chance to go to the local spa.  We of course changed together, walked upstairs to the spa together, preparing to choose between five or more different saunas and steamrooms and various hot and cold pools. 

Wait a minute--did I say change together?  I must have been mistaken.  I meant disrobe together.  And go into the pools as you are.
The piece de resistance in Heilbronn is a large semi-circular sauna, four levels high, seating a minimum of 20 at a time.  No one wears anything.  Actually, that's not true.  After a while a somewhat zaftig German woman, fully clothed in sweats, comes in with a towel attached to a stick, like a flag on a pole.  She adds water to the hot coals to get a bit of steam going, then moves around the room waving the towel in front of everyone.  She makes a few rounds, adding more water to the coals until her bucket is finished.  At the conclusion she bows to a round of applause.
What a delight.  The Romans did this thousands of years ago.  Why not in Portland?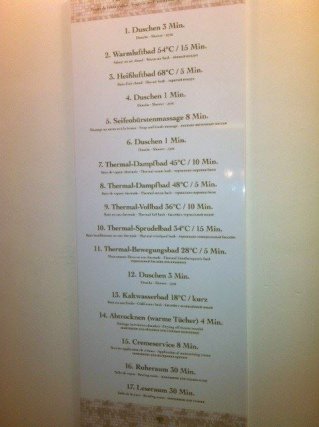 However, if you really want the spa experience, Baden-Baden is the place to go.  For us it was a snowy Friday afternoon, only about 80 MPH on the autobahn, our rear wheel drive BMW not able to get up the final hill to the hotel.  But trudge on we did, unpacked, and walk down the hill to Friedrichsbad,  http://www.carasana.de/en/friedrichsbad/home/
First, and the absolute most important thing for me to say here:  if you love your body, if you want the ultimate pampering for your body, you must go to Friedrichsbad in Baden-Baden at least once in your lifetime.  End of conversation!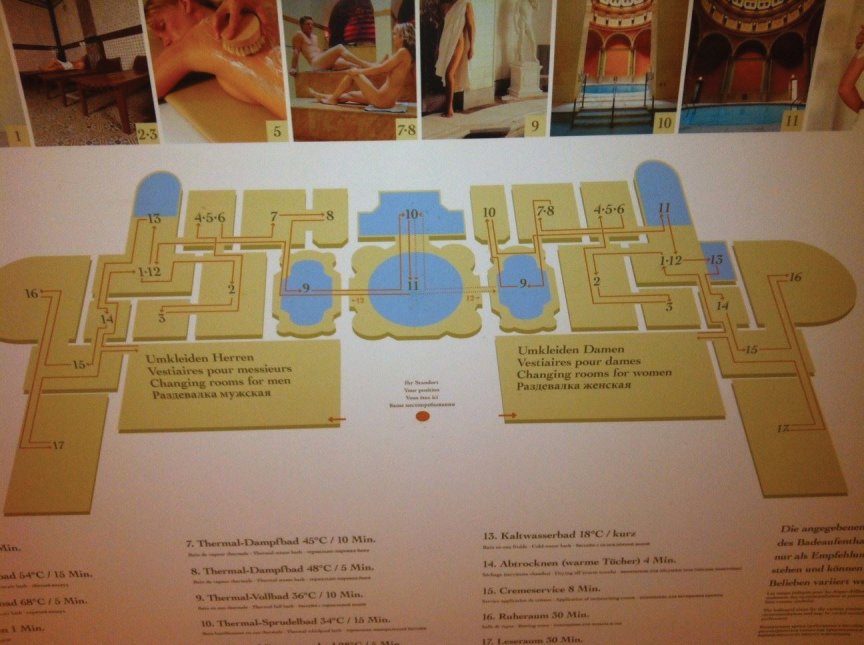 It begins with me gingerly holding a sheet around my body as a women in a white uniform (yes, they all wear white here) tells me what my next few stages are to be.  I realize that she doesn't give a rip about my body.  I drop my sheet.




Everyone showers together with great big overhead showers in an open room with about 8 showers.  Then into the first warm air bath (#2 on the map; note that the map has men's and women's facilities, for the days when man and women bathe separately), 130 degrees, for 15 minutes.  Then the hot air bath, lying down for 5-10 minutes at 150.  We come out to a shower and then get our entire body scrubbed (choose between a soft and a hard brush).  Then another shower and two steam baths, first around 110 degrees, then 120, sitting on a mat in a wonderful marble room.  This is all, of course, fed by the natural hot springs.




Now that an hour has passed, the rest is all play.  We can return to any of the previous rooms, but there is no need to do so.  We only have 3 1/2 hours here.




We go into the warm bath (#9) and play for a bit.  #10 is a bit cooler and has jets that you can sit on with bubbles surrounding you.  The round pool is most interesting; it is cool, but if the right people are there, a group will swim in a circle, creating a current as we all work it.  Invigorating. 





Another shower, then I dived into the cold water at #13.  OUCH.  But necessary for me and wonderful.




Then we dry and give each other a cream massage.  A guy (he actually spent some time living in Corvallis) takes us into a room, lies each of us on a bed, and wraps us from head to toe.  Jeanna says I was snoring almost immediately; she woke me when she thought it was time to go.  After a while sitting in the reading room, we were ready to go to the Christmas Market.




3 1/2 hours for 35 Euros.  WOW!




So why don't we do this in America?  Would you indulge yourself in the company of complete strangers, all clothless or workers in uniforms?  Would you look or be looked at, immediately realizing that no one, including you, is looking? 





We have learned something in the US that is different from what those around the world do.  I have had female bathroom attendants clean toilets next to me while I was standing at a urinal; I have had women give me towels for showers while I was waiting in my birthday suit.  While I admit that the first time it happened I was more than mildly surprised, I quickly realized that it was normal in the part of the world I was visiting.  And yes, the worker did not care about my body (another shock for the modern American male!).




Friedrichsbad.  Where the Romans bathed.  Can't wait to return.  How about you?








Categories: Teaching around the world

0

/