Shopping Basket
Your Basket is Empty
There was an error with PayPal
Click here to try again
Thank you for your business!
You should receive an order confirmation from Paypal shortly.
Exit Shopping Basket
Portland Leadership Institute
Nourish the Leader Within You
Leadership for the 21st Century
| | |
| --- | --- |
| Posted on 20 November, 2012 at 3:47 | |
China was a different story, just as interesting. 

We taught at the Guangdong University of Finance (GDUF) in Guangzhou, a small town of 16,000,000 that we grew up calling Canton.  Prof. Yan met us at the airport, and for the 45 minute drive to the university I peppered her with questions about what I would be doing.
Yan teaches HR, so we were on the same page immediately.  She had many of the students in her classes previously, although there were also to be new students.  All students (150-175) in my classes were volunteering to spend their time listening to me; this was not part of a regular class.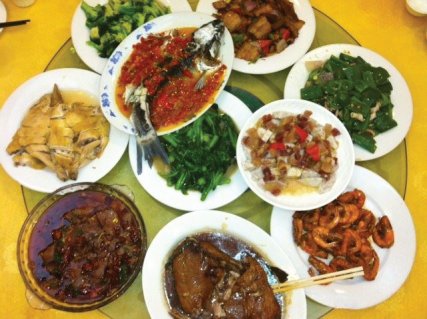 After a delightful lunch in the university cafeteria, we went to our first class.  Expectations were already shot to ribbons; my formal suit left me terribly overdressed, and I would not need to be glued to the podium and lecturn.  WHEW.
When we taught in Suzhou in 2005, it had all been quite formal.  I spoke for six hours at a time, and could do very little to get them to participate.  This time was different.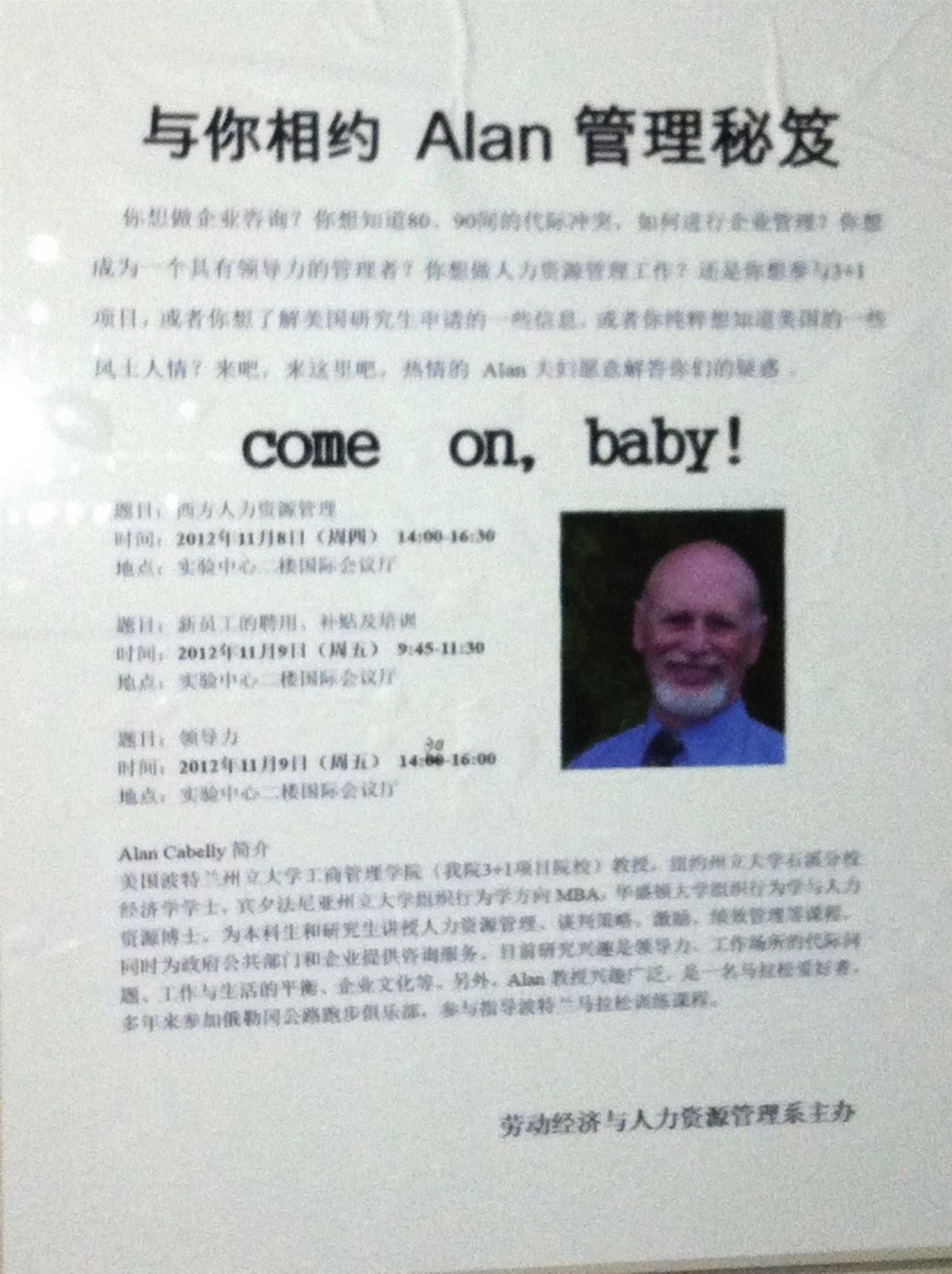 These students were bright, young, motivated, and participative.  Each of my lectures (two in HRM, one in Leadership) was formally structured, more so than in Viet Nam.  We pushed them, and they pushed back.
As in Viet Nam, students here were young and relatively inexperienced.  They came as a result of the attached poster (about 2' x 3'; 15 of them on campus, including one outside the classroom!) and were motivated to learn.  They asked questions and responded to mine.  I again used the microphone trick from Viet Nam (just give it to them or put it in their face!), which they relished. 

Most interesting was the unstructured question session at each day's conclusion.  Someone asked about the use of the tai chi symbol; I thought that this was the yin yang, and I quickly got an education.  Others wondered about the importance of personal relationships in American business situations, noting the greater importance of these in China. And yes, some questions focused directly on HRM or Leadership.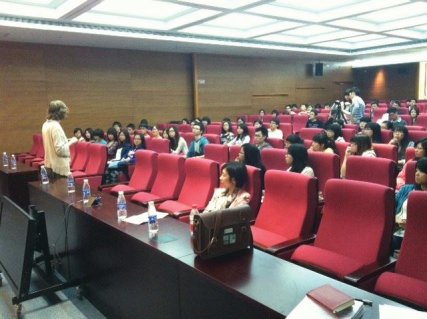 Jeanna was partner to this.  She responded to questions, some as a result of my request, some when she simply had to take the floor.  After the first lecture, she spoke with them for the first 5-10 minutes of the other lectures as I set up the technology.  She was the practitioner clarification to my organizational theory.
One of the final questions on the last day told us that we had succeeded.  Jeanna had opened the day with an emotional story about performance reviews.  At the conclusion that day a student stood up, took the mike, and said "I would like to hear another story from Mrs. Jean."  I found an easy chair in the back, sat, and listened.
This was such a different experience from Viet Nam.  While we didn't have the time to become directly involved in the Chinese students' lives, they let us know in many ways what our impact was.  We posed for pictures, stayed after class, responded to private questions about leadership, career, and philosophy.  As a result of great local faculty, these young students were starving for more knowledge from the American faculty member.
We have a responsibility when we teach overseas.  The students continue to educate us on this.

Categories: Teaching around the world
/