Shopping Basket
Your Basket is Empty
There was an error with PayPal
Click here to try again
Thank you for your business!
You should receive an order confirmation from Paypal shortly.
Exit Shopping Basket
Portland Leadership Institute
Nourish the Leader Within You
Leadership for the 21st Century
| | |
| --- | --- |
| Posted on 21 October, 2012 at 8:47 | |
This has been quite a week, and I haven't written for a while.  Will make up for that in the next 48 hours, probably going backwards, starting with today's adventures. 

But first, let me say that this has been really incredible.  Everyone has treated us wonderfully.  Students are great (first exam is tomorrow, a short quiz to let us get a feel for each other), faculty and administration helpful, and we are loving the people.  It is easy to see why no one (the Chinese, the French, the US) has wanted to leave.  But that is a political story for later.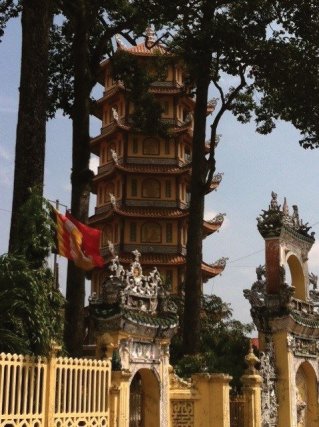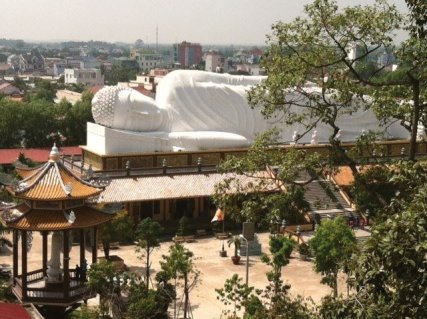 Today, Sunday:  one of the faculty members, Kim, picked us up at 9:30 and she and her fiancee took us out for >1/2 a day.  We climbed to the top of a pagoda, looking out over the temple with the Buddha on top.  Quite impressive.  They were praying as we were there, so we didn't go in.  Pictures show both the pagoda and the temple (click to enlarge the Buddha to get the full majesty of the presence).  It was already quite hot, feeling like 95!  And inside the pagoda, not looking to souvenir shop, we found a wonderful singing bowl and an exquisite wooden music maker, both made by hand locally.  Souvenirs are often best when not searched for.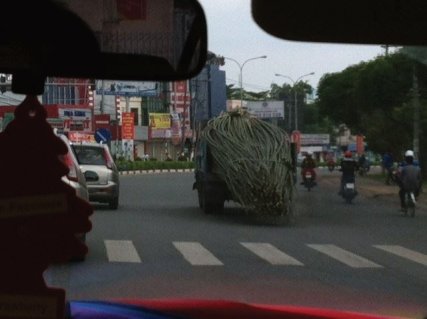 Next stop:  the university experimental bamboo growing research area.  Very interesting!  Best picture to show everyone is not where the bamboo is growing, but bamboo on a truck on the main road.  BTW, the drive to the bamboo area was on a small road to Cambodia, only ~200 km away.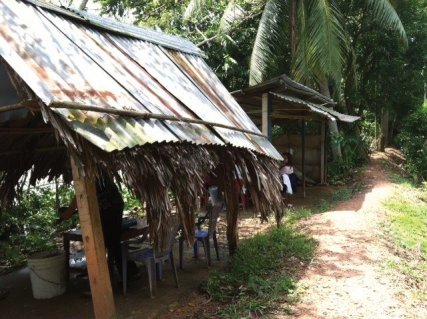 The final part of the day was lunch.  Son drove us ~10-20 km on a dirt road, to a place that even Kim had not been to.  It is a strict one-lane road, more narrow than the forest service timber roads in our NW mountains.  There are no turnouts, so it can get tricky.  They had asked us what we would eat; my standard is that as long as it is not still alive, and I know it is clean, I will try it.  So we started.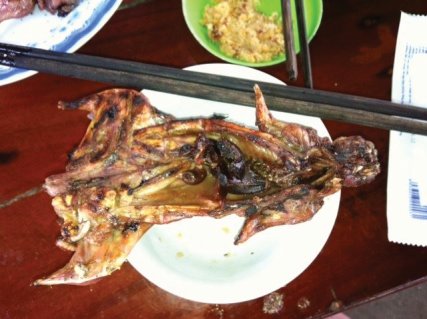 First, we made wonderful spring rolls, with rice paper unlike anything we have had home.  The piece de resistance of these was the tiny shrimp, full size, unpeeled, in a bed of onions.  This was along with greens and a vegetable that we could not identify, dipping all into a fish sauce.  
The grilled rat came next.  Quite spicy, and incredibly tender meat.  The picture is its underside.  Yes, they are bred for food, so have not been eating what Portland rats might eat.  We were told to not eat the liver; I was curious, but have learned to respect my hosts, so.....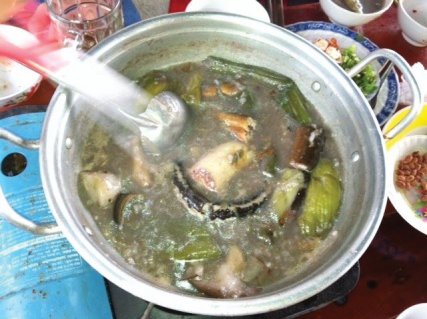 We thought we were done.  But.........the eel soup was next. WOW!  We had had eel many times, and again only a few nights previous.  But this was as tender as could be.  And tasty.  We were already stuffed, so could not finish.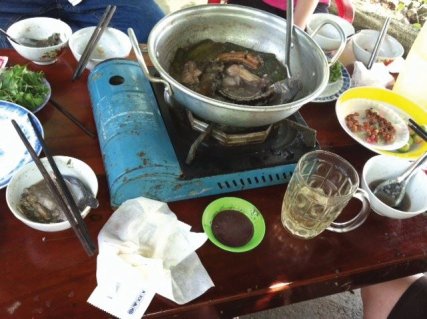 Why was the food so good?  It was all local, all essentially at a family's home.  There were probably 75-100 motor bikes there; we were the only non Asians.  Everyone smiled, some asked us to take their picture.  No one expected that the Americans could not eat local food, so we got their traditional Sunday best.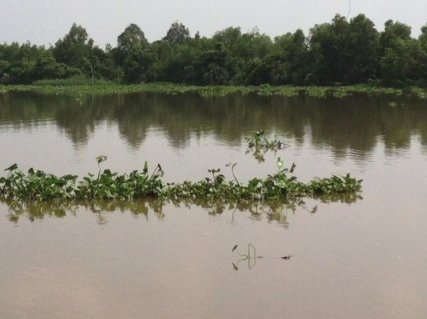 And we ate right on the banks of the Saigon River, no more than 10 feet from the water.  We ate with all the local people.  It is why we travel.
One of the top ten meal experiences for me.  Ever.

Categories: Teaching around the world
/