Shopping Basket
Your Basket is Empty
There was an error with PayPal
Click here to try again
Thank you for your business!
You should receive an order confirmation from Paypal shortly.
Exit Shopping Basket
Portland Leadership Institute
Nourish the Leader Within You
Leadership for the 21st Century
This is just a short one.  We are in Ho Chi Minh City/Saigon, which is absolutely amazing.  Will write more later. 

However..........the skies just opened up.  Jeanna and I took a video from the balcony of our room.  When you hear a gasp it was when a gust of wind came up to us.  Enjoy!
And as soon as the rain stops, it immediately becomes hot and muggy.

One more thing about time and the modern world.  Fabio is housesitting for us.  Fabio is a post-doctoral student from Italy; one of our faculty members met him when she recently taught in Italy.  We skyped Fabio yesterday.  He needs three clocks:  one for where he is in Portland, one for his family in Italy (nine hours time difference for him), and one for us in Viet Nam, ten hours the other way.  So we are only five hours away from Italy.  Go figure.

I am reminded of the beginning of Camus, The Stranger:  "Mother died today.  Or yesterday, maybe."  So now I am sitting in Saigon, 6:00 AM Saturday, watching last night's baseball game.  Today or yesterday? 

We are watching the Vice Presidential debate, starting at 8 00 AM Friday.  In Portland you are watching it at 6:00 PM, Thursday.

Today's 4 baseball games began at midnight.  Actually they are not today's games; they were yesterday's.  If they happened yesterday, shouldn't I already know who won?
I watch a sports talk show called Mike and Mike in the morning.  I saw Thursday morning's show on Wednesday night, while Mike and Mike were in bed, preparing for the next show.

What time is it?  What day is it?
My class begins at 12:30.  Every day.  When do the students arrive?  When I walk into the room at 11:45 half of them are there.  By 12:15 they are all there.  Do they know what time it is?
I take a break and ask them to return in ten minutes.  At PSU I would be happy to have them back within 15 minutes.  Here?  They're all back within 7.
What time is it?
Class ends.  At PSU they start packing up 5-10 minutes before class ends.  Here?  I can teach  as late as I want, and they are happy to soak things up.  They are in no hurry to leave.  It's called respect; it's called being a bit more relaxed about time.
However:  If the bus is scheduled to pick us up at 7:00, we need to be there by 6:50.  Because by 7:00 it might have left. 

Time is a funny thing.  We time travel to get here, and we will arrive in PDX a few hours before we leave China next month.  We in America are in a hurry to get places, and things begin when they begin.  Here:  it's more relaxed, but on time is often 5 minutes early.  Except when it isn't.
It's all called culture.  We are who we are, and so are you. 

My, did the skies open up yesterday morning.  They picked us up for the 20 minute drive to the university; it was clear.  Rain started, got harder, and by the time we got there it was some of the most incredible rain we've ever seen.  It just opened up.  It doesn't do that in the NW.  Our driver let us off at an overpass so we stayed dry, but wow.  And then when we got inside we just listened and watched.  You'd think we had never seen rain before.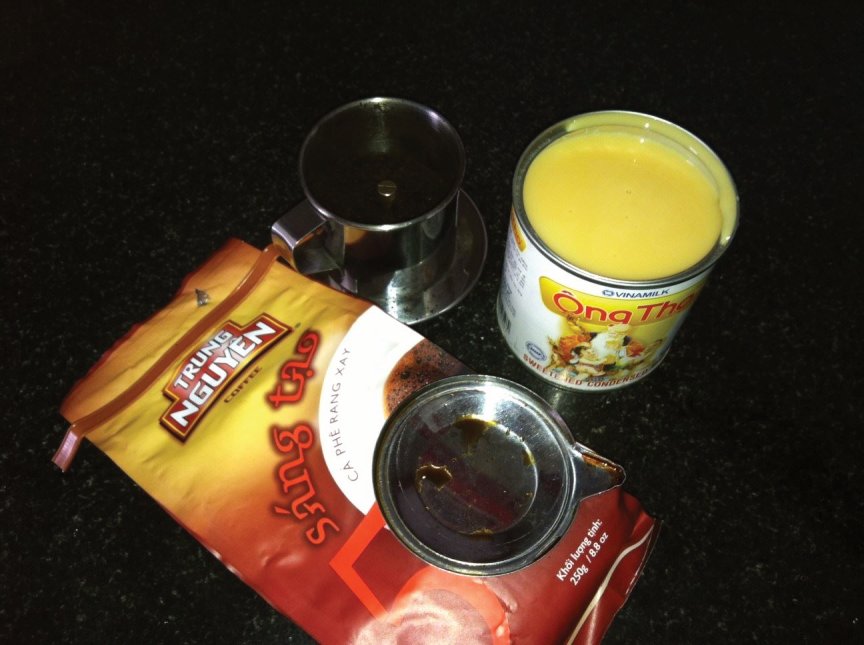 And the Vietnamese coffee.  Just wonderful.  We collect types of coffee from around the world, so last night we got the coffee pot and the sweetened condensed milk.  We had found the combination in Portland at Vietnamese restaurants, but it is different here where it was born.  It's similar to espresso, greek coffee, and other ethnic coffees.  It's local, different, and delicious.  The smell is wonderful.
But today is about the students.
We had been told that they were quite good.  And we remembered the students in Suzhou in 2005.  But we know to never know what to expect, to always be prepared.
Class began at 12:30, so of course I got in around 11:45 to prepare.  Of course 1/3 of them were already there!  I brought up the syllabus on the projector, and as soon as my name appeared, they applauded!  I hadn't done anything, and received accolades.
I am the expert, the Professor, from America.

By the time we started, the joking began and they started working.  After an hour I needed a break (will explain why later).  I asked them to promise to return in ten minutes; they were back within seven.  Can I bottle that and bring that to my American students?
We did a case that required group work (for those readers who are former PSU HRM students, we used a revision of High Growth Industries).  As we approached 2:30 I told them that as they finished Jeanna and I would walk around the room and take a look at their work.  We would review their work and tell them that they could go home.  We did this with one group after another, and no one left the room!  Most waited for us to depart ~15 minutes later.  Again--in America?
So the drawbacks, and the struggles:
1.  Most are 20 years old, with no work experience.  Not the typical PSU student, ~30 years old, juggling a family and two part time jobs.

2.  Their English language abilities are developing ever so slowly.  Jeanna is producing a business jargon glossary.  It will be interesting to see what their bios look like when I receive them on Friday.
3.  They speak so QUIETLY!  I have to repeat everything they say, and it is difficult for me to understand them.  That explains why I needed a break after an hour, while at PSU students typically have to drag a break out of me.
We Americans have a real responsibility here.  The American professor is the expert; it's not about Alan or Jean, it's about the pedigree and location.  The Vietnamese look to develop their society; our job is to help them achieve what they desire.
And this will make us better teachers at home.
=======================
This afternoon they make presentations based on what they did at the end of the day yesterday.  Their profs are also interested in seeing what they will do.  We'll see!
And Jeanna went in at 7:30.  She begins her work teaching English, tutoring the students.

We are here.  And very happy.
I am beginning this at 4:00 AM Tuesday; both of us are wide awake.  Through the magic of time travel, it is 2:00 PM Pacific time Monday, so you have to live that day.  We are finished with Monday.
The one problem with time travel is the travel itself.  11 hours on the first plane, 2 hours on the ground, and 7 hours on the second plane, counting the time on the ground.  Including ground transportation, 24 hours from leaving our home until checking into the university apartment.  Apartment is great, 2 bedrooms, living room, kitchen, etc.  We can spread out.

After the usual starts and stops about internet, food, and money, we are off to a good start.  We met with university faculty and secretary yesterday, and go to the university today.  I teach at noon, 43 sophomore students in an intro HRM course.  Will be interesting.  Jeanna meets with the ESL people later in the day to see what she'll be doing.

The basic plan in terms of faculty development is to meet with faculty prior to teaching, teach class, and debrief afterwards.  We'll try that for a few days, see if it works.
We had dinner at the local golf resort with Michael Reardon, EIU Co-President and former PSU Provost and Acting President.  Michael gave us a picture of this place, how it has changed.  We are ~30 km north of Ho Chi Minh City, in an area (Binh Duong) that was 70% agriculture 10 years ago, and 4% ag today.  It is bustling, filled with bicycles and small cars; traffic signs and lights apparently are advisory only, so we cross the streets with great care.  Being New Yorkers is helpful, but we must get into practice again.
Learning more about the differences between the north and the south.  Hope to say more about that later.  58 minority ethnic groups in a country of 87 million certainly makes for interesting politics, food, and culture. 

We'll go to Ho Chi Minh City with Michael for the weekend.  Michael knows what to do, so we've got a great tour guide.  Don't know if we'll be able to blog while we're there. There will be the required trip to the Hard Rock.  Perhaps also to the Mekong Delta.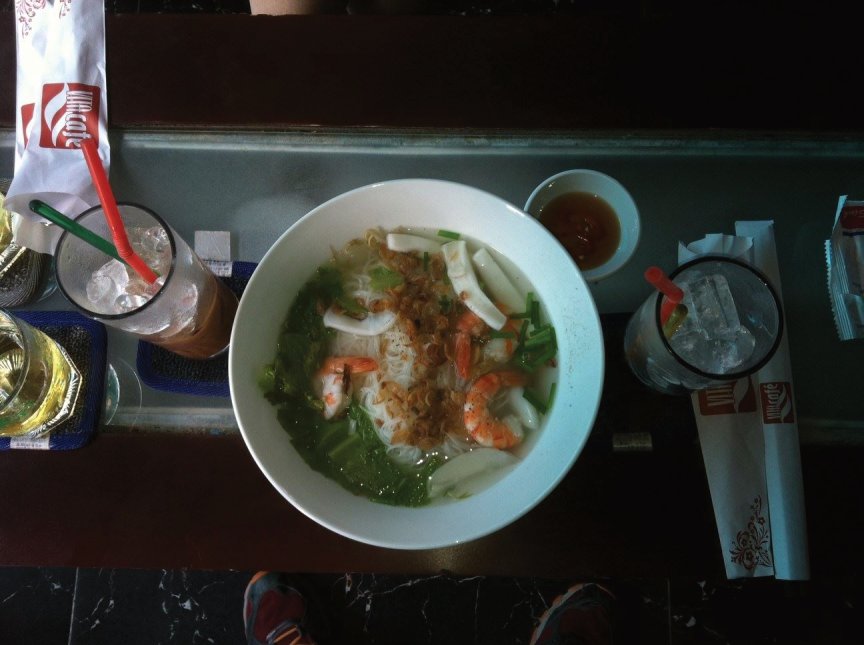 And yes, it is hot here.  Not oppressive, so we are OK.  We see the runners out early in the morning, in groups, some running, some walking, some barefoot, some doing movement. 
Food is great; this is Monday's breakfast. 

OK, I think that's it for now.  Perhaps try to get back to sleep.
Would you think an American Prof, a Swiss musher, and a Pennsylvanian/Alaskan father could have similar messages?  It turns out that they did, at the 2012 NHRMA Conference earlier this week in Anchorage.  The musher, Martin Buser, was the opening keynoter on Monday, while Father Oleksa got us off to a great start Tuesday.
We've all heard the colloquialisms about treating people like dogs.  Well, I would love to be treated like the dogs Martin Buser works with.  It is no wonder that he has won the Iditarod four times, and finished 29 consecutive times.
Two of Buser's comments strike home to me:
One year, his lead dog got hurt prior to the first checkpoint and had to be sent home.  Buser treated her with loving kindness, making her feel as if she had just won the race.  Do we take an employee with problems and help them to feel good about themselves, or do we make them feel lesser than?
We asked how he treats the "second team," those dogs who do not get to race the big race.  How does he motivate them when they have neither the ability nor the opportunity to perform on the big stage?  While he has other mushers, Buser himself works with the dogs in training, rather than give them over to less experienced people.  Meantime his younger mushers (his son will have a team this year) get to learn from the best dogs.  Wouldn't this be an interesting way to run an office?

And Father Oleksa was equally brilliant.  He has spent his life observing communication and cultural mismatches.  Part of his message:  My cultural pattern is perfect for me, it is what I know, and yours fits you.  It helps explain why some of us are on time, why some of us take an hour to leave a dinner party, and why Americans have exactly an hour for lunch while many Europeans start and end lunch whenever........It also explains more about prejudice/discrimination than the simple belief that one person merely has it in for another group.

A final important message from the Father:  when there is a communication mismatch/problem, the one in the lower power position always loses.  Think about that next time you and I miscommunicate!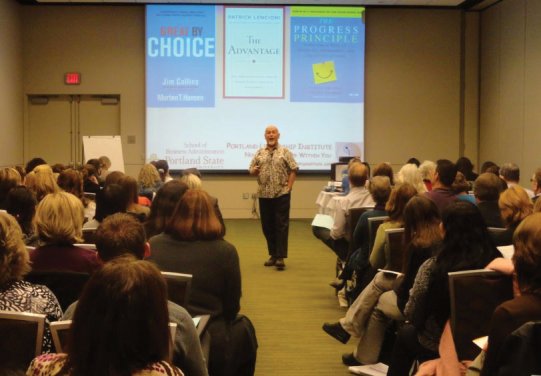 My presentation was Tuesday at 1:00, as perfect a time to present as could be.  Titled "Different Perspectives on Leadership:  What You Can Learn from Today's Thought Leaders" I connected thoughts from Teresa Amabile, Jim Collins, Malcolm Gladwell, and Patrick Lencioni into a cohesive set of thoughts about focus and success in 2012.  My focus (pun intended!) was to help everyone either get unstuck, or to help them figure out how to achieve their Big Hairy Audacious Goal.  The enclosed ppt could help you get started on your own journey.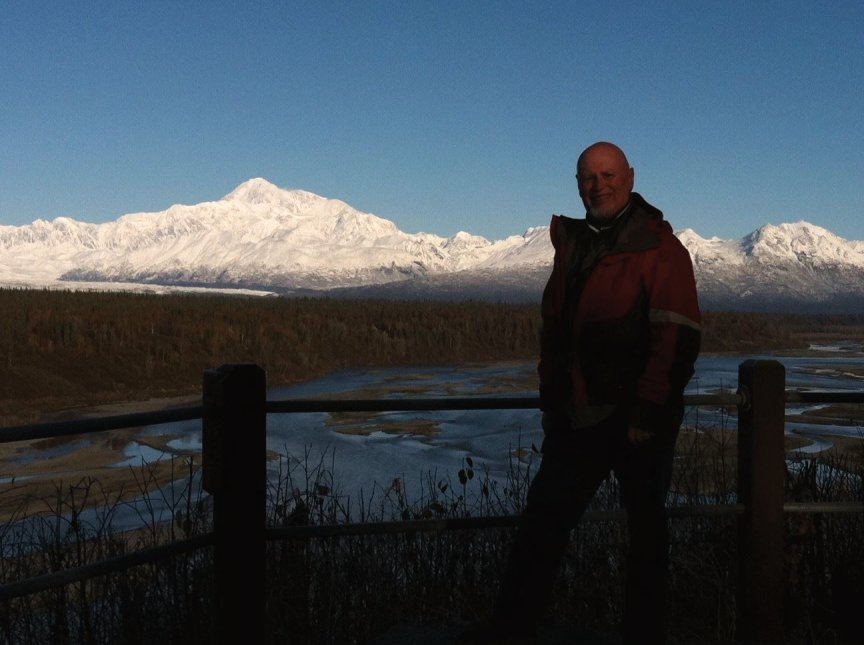 Alaska is nothing without scenery and adventure.  I spent two days in Beautiful Downtown Talkeetna, the starting point for Denali adventures.  After a Saturday filled with clouds and beautiful snow, Sunday dawned bright and shining.  And 25 degrees.  After breakfast I dashed out of town, nearly hitting a moose (sorry--no pictures.  It all happened too fast, as I watched him cross the street in front of my car), and headed to Denali.  From 42 miles away it took over the horizon.  It was all I had expected.  It truly is the Great Mountain.
The night concluded with my first sighting of the Northern Lights.  Again, no pictures.  The pictures are all in my head.  As is the scream from my friend Jenn when she first saw the lights.  (:-)

Next stop, Viet Nam (with apologies to Country Joe).  Saturday at 1:40 PM, arriving Sunday night!  Can't wait!

As many people know, academics have an opportunity that should be available to many, but unfortunately is not.  We have the chance to take a sabbatical every seven years.
The basis of a sabbatical is in the bible, where we are told to leave the ground bare in the seventh year.  The word itself stems from the Hebrew "shabbat," and the Greek sabbatikos, a ceasing.
Although available to faculty members every seven years, I have taken only two in my 32 years at Portland State.   I stayed in town doing research for each.  This time I decided to do something different.
The university requirement (and essentially the biblical requirement) is to enrich oneself.  Jeanna and I will spend our time being of service around the world.
First stop:  Anchorage for the Northwest Human Resource Management Association Conference.  On Tuesday, Oct. 2, 2012 I will present "Different Perspectives on Leadership:  What You Can Learn From Today's Thought Leaders."  This will combine some of Teresa Amabile, Jim Collins, Malcolm Gladwell, and Patrick Lencioni in a way that HR professionals will be able to improve their everyday leadership capabilities.  While up there, I'll also spend two nights in the thriving metropolis of Talkeetna, watching the glaciers flow down Denali.  Unfortunately Jeanna will not be with me.

Viet Nam is next.  We'll be at Eastern International University for about a month, beginning Oct. 6.  EIU is a new university, a partner to Portland State just outside Ho Chi Minh City.  I will teach HRM while Jeanna teaches English as a Second Language.  We'll also do curriculum and faculty development, and anything else they ask us.  They are some great people, thriving to develop their country, and we truly have the opportunity to be of service.  We'll also visit; having lived through the war 40 years ago, I have need to see what I only saw on TV.
China comes next, delivering lectures at the Guangdong University of Finance, in Guangzhou (formerly known as Canton).  In addition to a leadership lecture similar to that presented in Anchorage, I will also discuss HRM Practices in the West.  One lecture is about Hiring and Onboarding, while the other concerns Motivating Employees with Coaching and Rewards.  Our prior Asian experiences told us that these are crucial topics where our information could make a true difference.  In addition to teaching, we're excited to be able to visit Xi'an to see the ancient terra cotta soldiers. 

After China we'll come home for a few weeks to recover.  Then it's off to Heilbronn Germany, to the Duale Hochschule, Baden-Wurttemburg in early December.  We have worked with our friend Uli many times.  In addition to me teaching Leadership, Jeanna will again teach ESL.  It will be interesting:  for the first time ever, Jeanna and I will teach the same students, at different times.  They will get the true Benevento/Cabelly experience.  We'll come home from Germany by way of Iceland, hoping the clouds clear enough to see the Northern Lights.
Finally, after a few weeks home for the new year, we'll go to Lyon France, teaching one week in their international program, and one week in their intense executive program.  The application process for this one was competitive, and it will be interesting to work with the other faculty, all of whom will be outsiders.  We'll have a few days off between sessions, and will either revisit the Cro-Magnon cave paintings near Les Eyzies, or spend a few days on the Riviera.  In January!
We'll keep everyone informed of our actions. We expect that some of our musings will be of the leadership variety, some of the international culture variety, some will be about teaching and the people we meet, some of course will be about food, and the rest?  Who knows.  But stay tuned; the ride is always exciting.
/