Shopping Cart
Your Cart is Empty
There was an error with PayPal
Click here to try again
Thank you for your business!
You should be receiving an order confirmation from Paypal shortly.
Exit Shopping Cart
Portland Leadership Institute
Nourish the Leader Within You
Leadership for the 21st Century
Travel and transportation:  just one way we are all different from each other.
I was scheduled to return home on Monday, Jan. 21, 2013.  Taxi to the airport in Lyon, early morning flight to Amsterdam, non-stop flight to Portland.  Pretty simple, right?
However, Sunday 9:00 PM E-mail from KLM:  "your flight, Lyon to Amsterdam, has been canceled.  We apologize for any inconvenience."
Inconvenience!!?!  I'm not getting home Monday!  Oh well, the sun will shine in Lyon, the extra day will be wonderful.  So with Jeanna's help from the US, me skyping her while she speaks directly to KLM, we reschedule for Tuesday.
The problem is the weather.  London, Paris, and A'dam airports are smothered in snow.  It's on TV and everyone's minds.  I soon find on Monday that Tuesday's plane is canceled also.  What gives?
KLM tells me they are compelled to cancel 40% of their flights due to the weather, so they choose to cancel the local flights and retain the international flights.  Well, that does me no good.  I'm stuck.
But I just finished teaching my leadership class, with the final session focusing on being stuck.  So I check and I check, looking for options, searching for clues, again going to the KLM ap.  What do I find?  The train!  Yes, the train from Lyon to Paris, non-stop flight to Seattle, then Horizon (always with free micro brews!) to Portland.  I'm in luck.
So why is this blog about transportation differences?  This solution is not available in most places in the US, certainly not in Portland. 

My KLM air ticket has the train ticket embedded in it, including boarding pass, as if it were another flight.  In the US?  Non!

Lyon->Paris airport is ~300 miles.  With two stops we do the trip in two hours, arriving 8:00 AM.  I sleep most of the way.  US?  Uh uh.

Arrive in Paris:  I ride the escalator up two flights, and suddenly I am no longer in the train station.  I am at Charles de Gaulle airport!  I go through customs and security, and check in for my flight.  In Portland?  After arriving at the train station, it would be a few blocks walk or taxi to light rail, then a 45 minute ride to the airport.  Not quite the same.

Over the years we have observed so many travel differences throughout the world.  Here are some more:

Driving cars

throughout Europe the standard speed limit on autoroutes is 130km, 81 MPH, with most cars driving ~140.  Germany has no speed limit, and 100 mph is the norm.  The "old ladies" lane is typically 80 mph.  Slower is unsafe.
Left and center lanes in Europe are for passing only.  99.5% of all drivers immediately go into the right hand lane when they are not passing.  Thus a three lane highway has three usable lanes, and there is never a need to pass a slower car on the right.
Driving 100 MPH is like a video game, a potentially lethal video game.  Simultaneously watch all three lanes in front of you, and the middle and left hand lanes behind you.  Watch traffic signs and the quickly moving and talking GPS to see where you go next.  Always be careful of the big black Mercedes bearing down on you at 140 MPH in the left hand lane; this is when you suddenly floor it to 120 to pass the middle lane car poking along at only 95 MPH.

Traffic signals and stop signs in Greece and other parts of southern and eastern Europe are treated as if they are "advisory only."  Everyone is on alert at all times.
Asia (our experience is Bali, Korea, Viet Nam, China):  Anything goes.  Just don't hit another car or a pedestrian. 
One way streets and sidewalks:  if it's necessary to go where you "shouldn't" (wrong way, sidewalk, etc.), just make sure it's safe.
Gas costs ~$6.00/gallon.  Affordable?  Absolutely.  Because their cars get 40-60 MPG.  How do they do this?  Everyone drives a stick shift (why did the US move away from this in the 1960s?), and diesel is the standard.  Diesel is cheaper than regular when mass produced, gets better gas mileage, and is cleaner/better for the environment than regular unleaded or electric cars.  The extra tax money goes into improving the roads so you can drive faster.  And yes, a stick shift is better for us, cheaper to produce, and more fun to drive.

Pedestrians
in Portland and Seattle (and much of the western US) walk as slowly as you can, stopping as much traffic as possible, because you have the right of way

in China, put your head on a swivel, watching for anything come at you in any direction, and dash across whenever necessary.  Be certain to look for bikes and mopeds also.

in Viet Nam (we've said this in a previous blog), decide when you will cross, look for an opening, and carefully go out into the street.  Walk at a brisk and careful pace, be predictable, don't stop or retreat, and the vehicles will evade you.  If you are an American, use a little old lady to help you cross.
In NY or Lyon combine the best of China and Viet Nam.  I found Lyon traffic and pedestrians to be closer to my native NYC than anywhere else in the world.  Remember that vehicles have the right of way, but that they will respect pedestrians who are respectful of drivers and move rapidly when taking chances.  I truly enjoyed walking in Lyon.

Bicycles, motorized bikes, and mopeds
they are at a mature level in Europe and Asia, coexisting peacefully with pedestrians and automobiles.  It is said that there are 1.3 billion people in China, with 1.1 billion bicycles.  We believe it. 

In much of the world, cars, bikes, pedestrians all look out for each other, have few run-ins with the other "species."  They don't block the other, don't yell at or hit the other. 

In much of Asia these are the prime form of transportation; cars are too expensive.  In Bali, outside the major city, it felt as if the ratio of two-wheelers to cars was 10:1. 

The rest of the world is a walking and train driven world. 
Pedestrian Malls.  This is the enormous downtown difference between the US and Europe/Asia.  We have never been in a European city without a significant pedestrian mall in the heart of the city, giving people free reign.  The impact on city life is enormous.
Parking and driving restrictions abound in Europe.  For American driving visitors this is challenging, especially when the GPS says "drive here," and "here" is blocked by a post that requires a local security card.  But this keeps the inner city clear, which is truly what the aforementioned American longs for.

I landed in Lyon at 5:00 PM on a Saturday and was told to take the express train to the main train station and then walk 1 km to my hotel.  However, after a long day I was exhausted, so went to the taxi stand.  No cabs!  After waiting 10 minutes I took the suggestion of my hosts.  I had a great conversation on the train, was shown where to walk to my hotel, and arrived refreshed.

Throughout my time in Lyon I walked everywhere, even bypassing the Metro.  Again, completely refreshing.
Lyon is the size of Portland, with a mature bus and light rail system, a la PDX.  However, it also has the metro.  I don't know how many US cities of its size also has a subway system. 

We thoroughly enjoy European travel, even with its ups and downs.  Asia has always been more challenging (we'll probably never drive there), although we find it easy to get around.  And there is no travel that I enjoy as much as the Autobahn.  However, at 100 MPH the world goes by quite fast.

. 
I am nearing the end of two incredible weeks teaching in France.  What a time!

I was invited to teach in two programs at Université Jean Moulin, IAE Lyon, Ecole Universitaire de Management.  Wow, that's a mouthful.  Suffice to say, IAE Lyon is a great Management School.
International Week has more than 40 guest professors visiting from 25 or so nations.  Each course is a three day course (Mon-Wed or Thurs-Sat) taught over 17 hours.  This means the first two days were 9:00-12:30 and 2:00-5:30, with a final day of 9:30-12:30.  Wow.  Most of us had never taught so much in such a short time period.  And there were great research symposia Wednesday afternoon.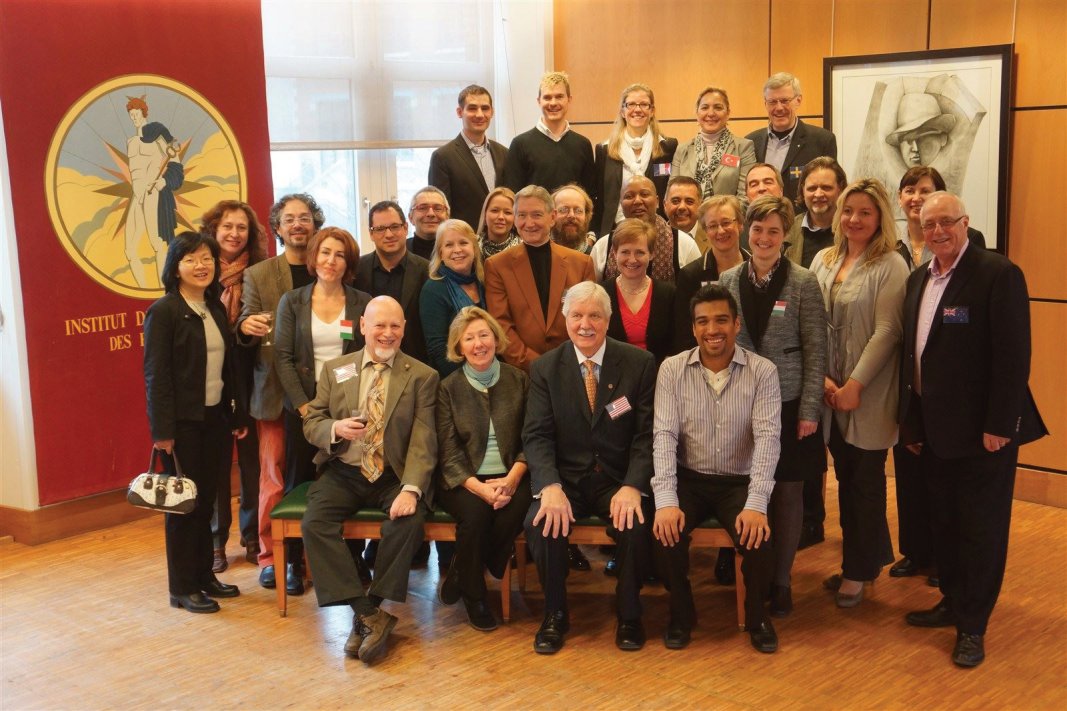 The students were great.  They were part of IAE's regular MBA, taking courses that fit directly into their programs.  We taught electives, special topics students would not otherwise receive from professors they would otherwise not have access to.  Though relatively young, they were highly motivated to study and learn what we had to give.
Perhaps the best part of International Week were the interactions among faculty members.  First, their topics were incredible; mine, "Leadership for the 21st Century:  What is Your Style?" (I did it in both sessions) was one of the most mainstream.  Others included

Green Marketing
Post Crisis International Marketing Investment Decision Making
The Eurozone Crisis
Two Speed Europe--a Reality Already
Developing Women Leaders
Crisis Management
The Empire of Cash:  an Exploration of the Morality of Capitalism
Social Media Marketing and the Internet Media Plan
My faculty colleagues were just as interesting as their topics.  Our conversations ranged from ethics to the Euro to American-European relations to Collegiality at Work to .....  to just about anything else political, religious, or economic.

Not only was the talent wonderful, the administration ran a program that  motivates everyone to return.  I was one of the few rookies; many have been returning for five or more years, some for the entire period of the program.  Some have set up similar programs at their home institutions.  We had incredible opportunities to interact with each other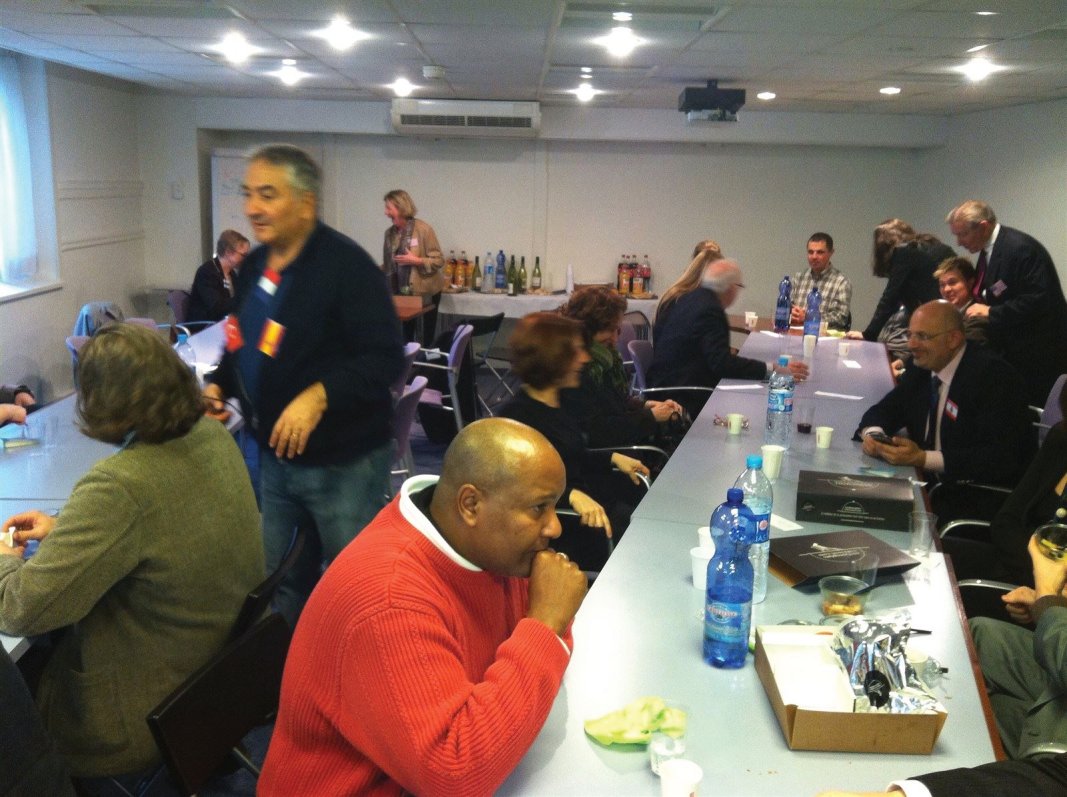 breakfast was always in the hotel and very French
the entire program had coffee breaks from 10:00-10:30 and 3:30-4:00.  1000 students met (and smoked!) in the courtyard.  Faculty met in our room for coffee, chocolate, and conversation.
lunch was 12:30-2:00 (or so....Manuel rang a bell and reminded us that it was time to return; that's Manuel moving rapidly in the faculty room).  For a few days it was a lavish box lunch with wine, and then it became a full 4 course meal with wine and espresso.  Yes, before returning to the classroom.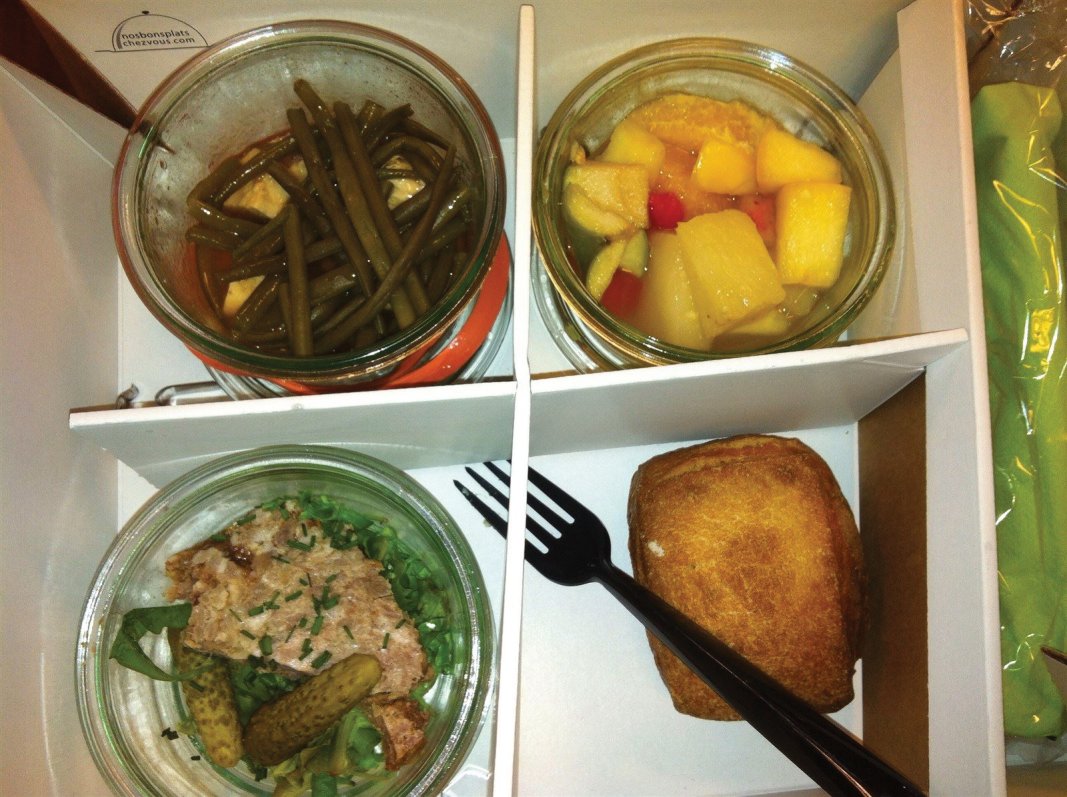 Dinner was anything from heavy hors d'oeuvres with caviar at a penthouse suite with business leaders of Lyon, to a trip into Vieux Lyon for dinner prepared by a world renowned chef.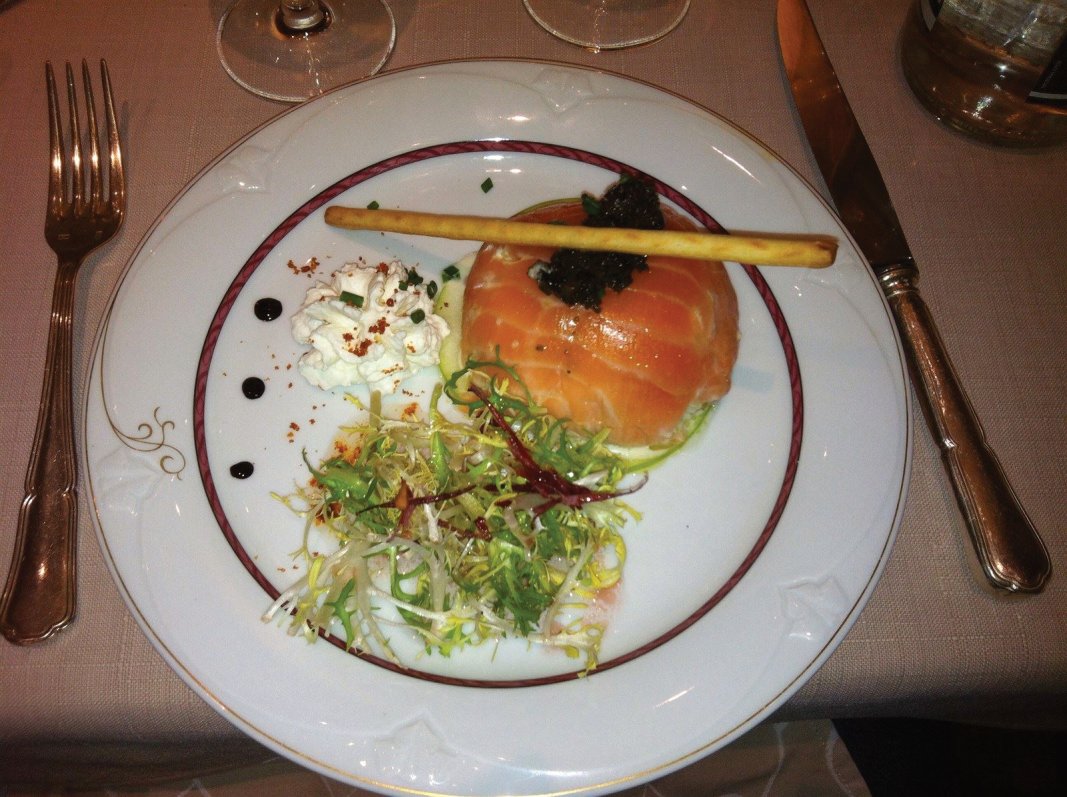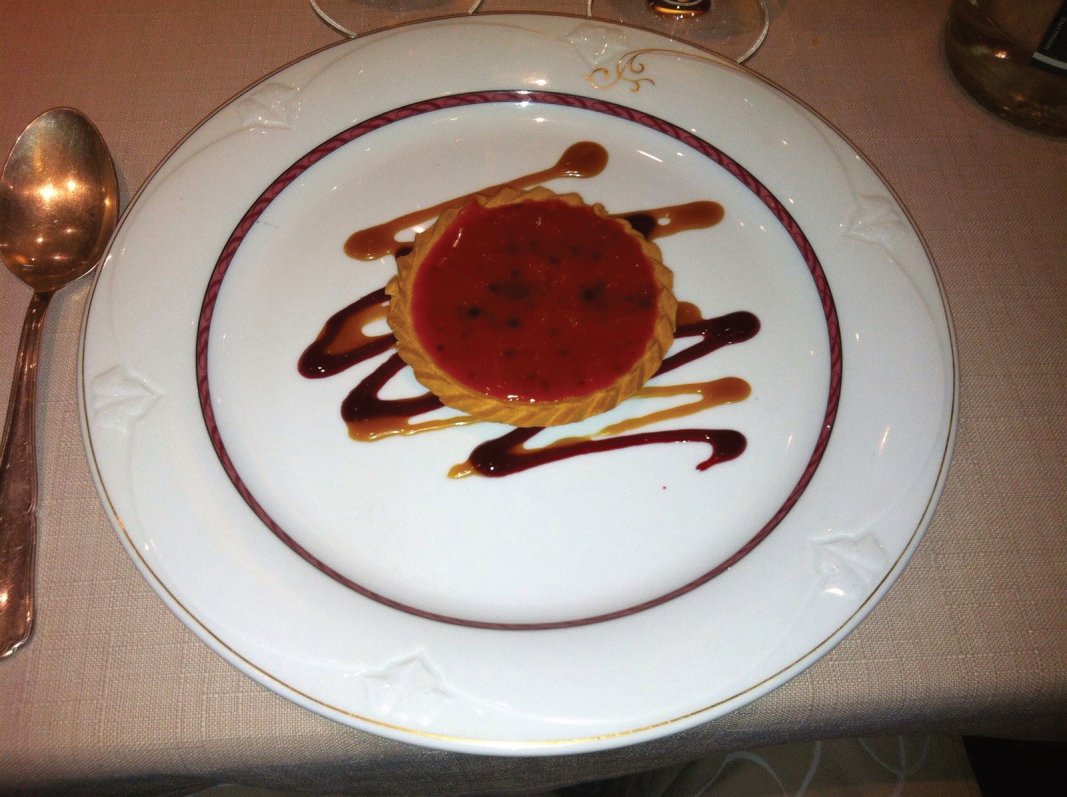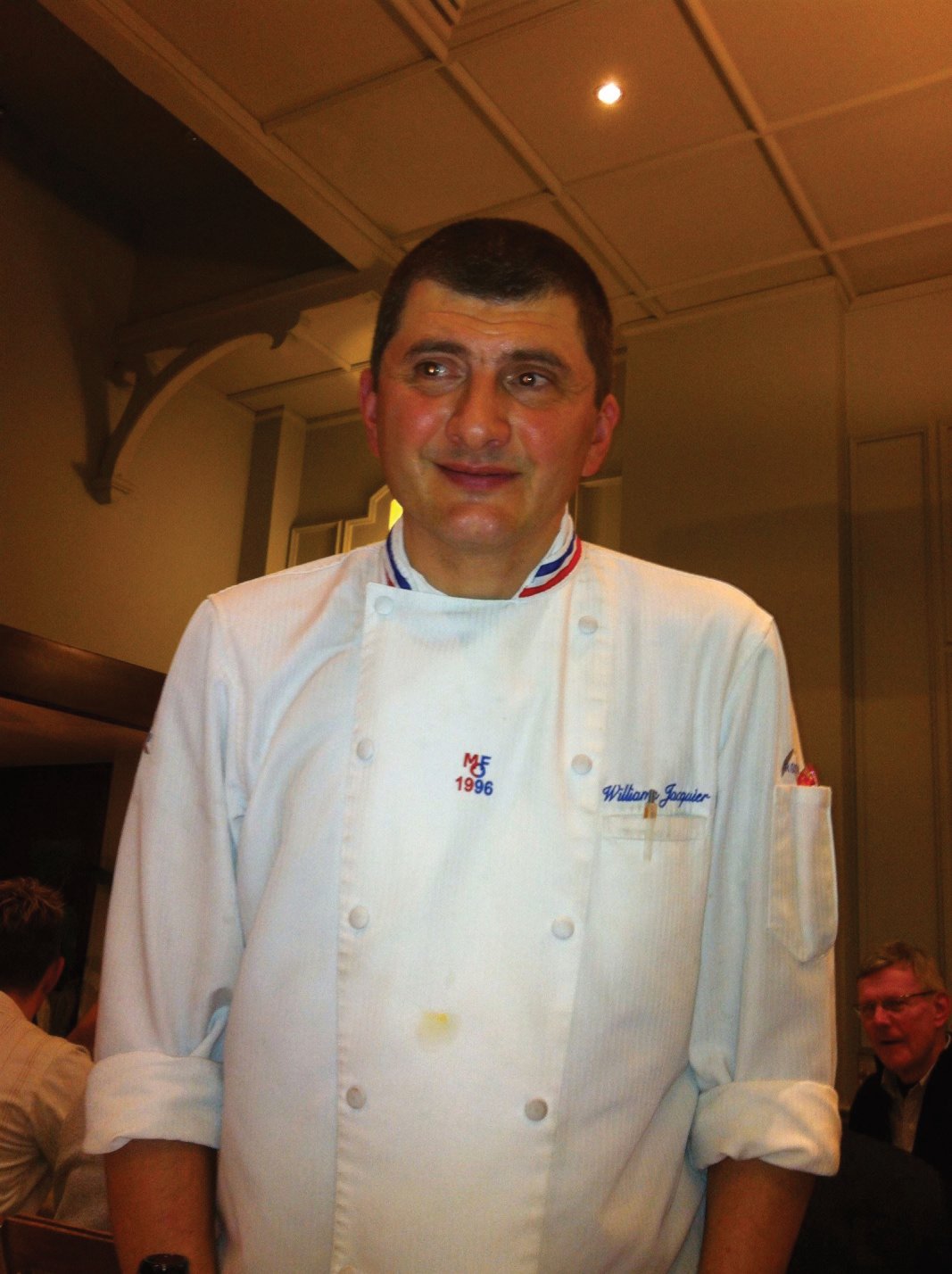 Sad to be finished with this Saturday afternoon last week.  I left for 5 days in south France (perhaps I will post on that later). 
I returned Friday Jan. 18 to teach in the Executive MBA program (IMBA).  They had previously received the first half of their leadership program, a great approach to leadership.  Today I began filling in the details.  These students are local executives with experience from throughout the world.  Today we spent eleven hours together, teaching 8:00 AM-1:00 PM, walking to lunch together, then doing it again 2:00-7:00.  Tomorrow is only eight hours, because the university closes at 5:00 on Saturday.  We push each other, get all of us ready for our futures.

And the most special non-academic part of this class?  Watch the video.

I've never taught 18 hours in two days anywhere.  Do you think it is worth it?

And I had never previously taught in France.  I may be back!

We've been in Germany for a week.  It's been incredible.  Many ups and downs; what an interesting country, in an enormously different way from Viet Nam or China.  Their roads and speeds are beautiful, they worship the wrong football, their Christmas Festivals are incredible, their taxes are too high, their health care is wonderful, and it's downright cold.  But tonight's story is about their spas.
(spoiler alert:  some of you may be disturbed by what I have to say.  Oh well......)
Europeans and many others have figured out one obvious fact that we Yanks should have realized centuries ago:  the human body is merely a flesh bag, a cover for all that is inside.  Wash it, take care of it, keep it the right temperature, use it to keep the innards sacred.  But don't get uptight about it.
From when we arrived in Heilbronn we looked forward to the first night we would have a chance to go to the local spa.  We of course changed together, walked upstairs to the spa together, preparing to choose between five or more different saunas and steamrooms and various hot and cold pools. 

Wait a minute--did I say change together?  I must have been mistaken.  I meant disrobe together.  And go into the pools as you are.
The piece de resistance in Heilbronn is a large semi-circular sauna, four levels high, seating a minimum of 20 at a time.  No one wears anything.  Actually, that's not true.  After a while a somewhat zaftig German woman, fully clothed in sweats, comes in with a towel attached to a stick, like a flag on a pole.  She adds water to the hot coals to get a bit of steam going, then moves around the room waving the towel in front of everyone.  She makes a few rounds, adding more water to the coals until her bucket is finished.  At the conclusion she bows to a round of applause.
What a delight.  The Romans did this thousands of years ago.  Why not in Portland?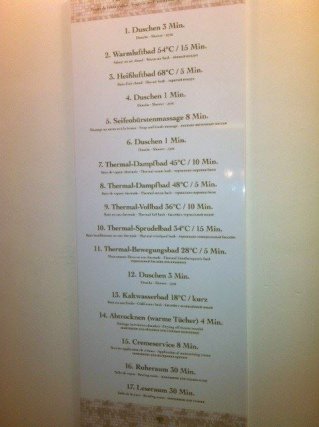 However, if you really want the spa experience, Baden-Baden is the place to go.  For us it was a snowy Friday afternoon, only about 80 MPH on the autobahn, our rear wheel drive BMW not able to get up the final hill to the hotel.  But trudge on we did, unpacked, and walk down the hill to Friedrichsbad,  http://www.carasana.de/en/friedrichsbad/home/
First, and the absolute most important thing for me to say here:  if you love your body, if you want the ultimate pampering for your body, you must go to Friedrichsbad in Baden-Baden at least once in your lifetime.  End of conversation!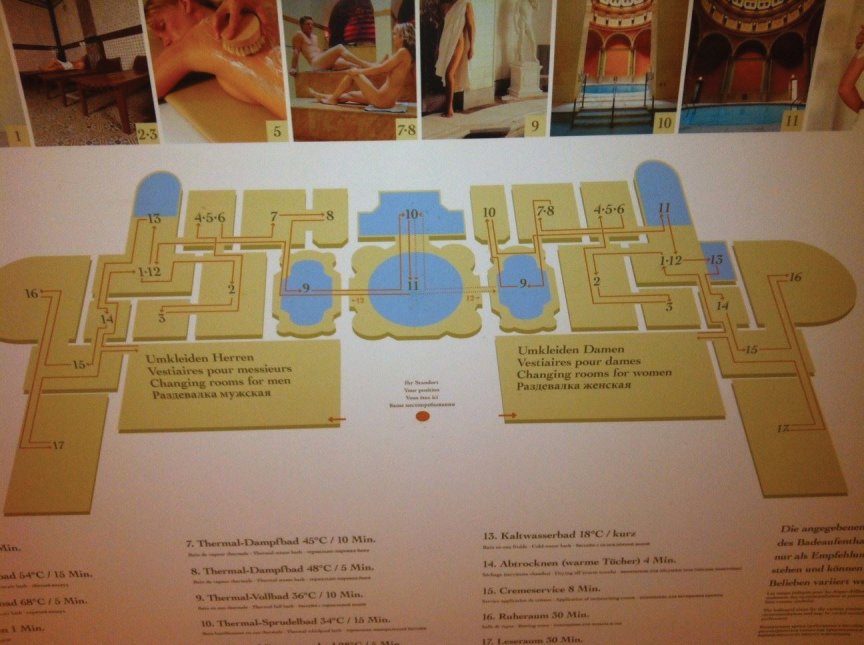 It begins with me gingerly holding a sheet around my body as a women in a white uniform (yes, they all wear white here) tells me what my next few stages are to be.  I realize that she doesn't give a rip about my body.  I drop my sheet.
Everyone showers together with great big overhead showers in an open room with about 8 showers.  Then into the first warm air bath (#2 on the map; note that the map has men's and women's facilities, for the days when man and women bathe separately), 130 degrees, for 15 minutes.  Then the hot air bath, lying down for 5-10 minutes at 150.  We come out to a shower and then get our entire body scrubbed (choose between a soft and a hard brush).  Then another shower and two steam baths, first around 110 degrees, then 120, sitting on a mat in a wonderful marble room.  This is all, of course, fed by the natural hot springs.
Now that an hour has passed, the rest is all play.  We can return to any of the previous rooms, but there is no need to do so.  We only have 3 1/2 hours here.
We go into the warm bath (#9) and play for a bit.  #10 is a bit cooler and has jets that you can sit on with bubbles surrounding you.  The round pool is most interesting; it is cool, but if the right people are there, a group will swim in a circle, creating a current as we all work it.  Invigorating. 

Another shower, then I dived into the cold water at #13.  OUCH.  But necessary for me and wonderful.
Then we dry and give each other a cream massage.  A guy (he actually spent some time living in Corvallis) takes us into a room, lies each of us on a bed, and wraps us from head to toe.  Jeanna says I was snoring almost immediately; she woke me when she thought it was time to go.  After a while sitting in the reading room, we were ready to go to the Christmas Market.
3 1/2 hours for 35 Euros.  WOW!
So why don't we do this in America?  Would you indulge yourself in the company of complete strangers, all clothless or workers in uniforms?  Would you look or be looked at, immediately realizing that no one, including you, is looking? 

We have learned something in the US that is different from what those around the world do.  I have had female bathroom attendants clean toilets next to me while I was standing at a urinal; I have had women give me towels for showers while I was waiting in my birthday suit.  While I admit that the first time it happened I was more than mildly surprised, I quickly realized that it was normal in the part of the world I was visiting.  And yes, the worker did not care about my body (another shock for the modern American male!).
Friedrichsbad.  Where the Romans bathed.  Can't wait to return.  How about you?

China was a different story, just as interesting. 

We taught at the Guangdong University of Finance (GDUF) in Guangzhou, a small town of 16,000,000 that we grew up calling Canton.  Prof. Yan met us at the airport, and for the 45 minute drive to the university I peppered her with questions about what I would be doing.
Yan teaches HR, so we were on the same page immediately.  She had many of the students in her classes previously, although there were also to be new students.  All students (150-175) in my classes were volunteering to spend their time listening to me; this was not part of a regular class.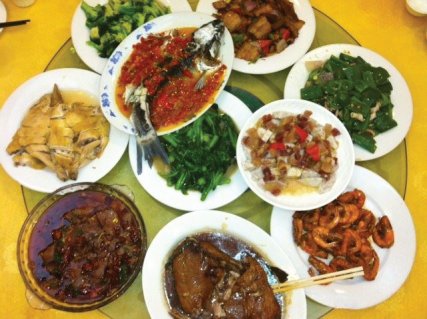 After a delightful lunch in the university cafeteria, we went to our first class.  Expectations were already shot to ribbons; my formal suit left me terribly overdressed, and I would not need to be glued to the podium and lecturn.  WHEW.
When we taught in Suzhou in 2005, it had all been quite formal.  I spoke for six hours at a time, and could do very little to get them to participate.  This time was different.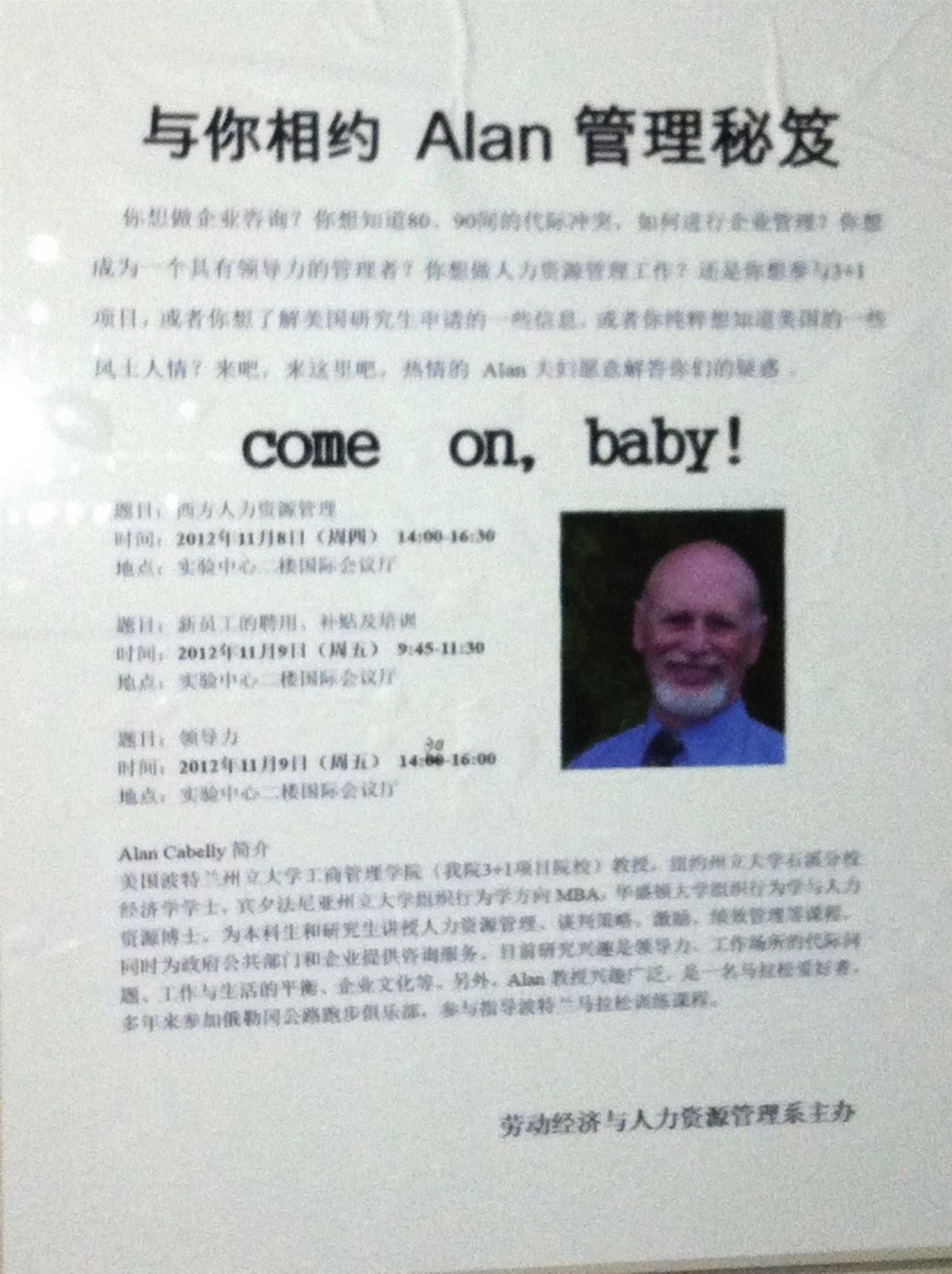 These students were bright, young, motivated, and participative.  Each of my lectures (two in HRM, one in Leadership) was formally structured, more so than in Viet Nam.  We pushed them, and they pushed back.
As in Viet Nam, students here were young and relatively inexperienced.  They came as a result of the attached poster (about 2' x 3'; 15 of them on campus, including one outside the classroom!) and were motivated to learn.  They asked questions and responded to mine.  I again used the microphone trick from Viet Nam (just give it to them or put it in their face!), which they relished. 

Most interesting was the unstructured question session at each day's conclusion.  Someone asked about the use of the tai chi symbol; I thought that this was the yin yang, and I quickly got an education.  Others wondered about the importance of personal relationships in American business situations, noting the greater importance of these in China. And yes, some questions focused directly on HRM or Leadership.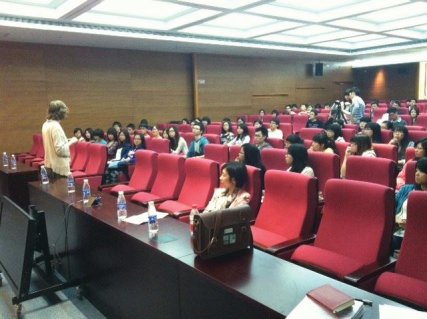 Jeanna was partner to this.  She responded to questions, some as a result of my request, some when she simply had to take the floor.  After the first lecture, she spoke with them for the first 5-10 minutes of the other lectures as I set up the technology.  She was the practitioner clarification to my organizational theory.
One of the final questions on the last day told us that we had succeeded.  Jeanna had opened the day with an emotional story about performance reviews.  At the conclusion that day a student stood up, took the mike, and said "I would like to hear another story from Mrs. Jean."  I found an easy chair in the back, sat, and listened.
This was such a different experience from Viet Nam.  While we didn't have the time to become directly involved in the Chinese students' lives, they let us know in many ways what our impact was.  We posed for pictures, stayed after class, responded to private questions about leadership, career, and philosophy.  As a result of great local faculty, these young students were starving for more knowledge from the American faculty member.
We have a responsibility when we teach overseas.  The students continue to educate us on this.

These five weeks were among the most extraordinary of my life.  This was some of the most important work I have ever done. 

(First, let me apologize for the lack of writing in the last few weeks.  Teaching got crazy, we spent much time focused on Hurricane Sandy and our relatives back east, and I lost control over time.  I expect to write a number of messages about Asia in the next week or so.) 

It is difficult to describe what teaching in Asia, especially Viet Nam, meant to me.  The focus here is on Viet Nam, because we had 4 full weeks there.  I taught two hours each day (the typical PSU course is four hours/week).  I believe that China would have had the same impact; however, all I had there were three two-hour lectures.
It was amazing what the students learned.  We were told that these students were the best in their program, and they did not disappoint.  They were learning English and HRM simultaneously, so I covered less than I would normally cover in a similar PSU course.  However, focusing and concentrating did wonders to their work.  Their projects were commensurate with what our juniors would do, all being clearly acceptable or higher.
Their verbal abilities increased amazingly over time, especially as Jeanna spent more and more personal time with them.  We put a money jar in the room, required them to contribute 1000 Vietnamese Dong (all of 5 cents!) toward the final day's party whenever they spoke Vietnamese.  It was a badge of pride to not contribute!  I forced the microphone in their face, and they had no choice but to speak.
And then there was Jeanna's work with them, sometimes in small groups, often one-on-one.  She coached and nurtured them.  Where I can be intimidating, she was everyone's friend.  She got the best out of them.  The results showed. 

We also worked on their study skills.  They began with a different perspective on taking notes, one that may have worked for them so far, but that would not lead to the results we desired.  It was as simple as telling them to take notes on project work that they performed in class, project work where they began writing their final reports in class.  They had to keep track of what we did in class; most had never done this previously.  We had to teach them to do it.  They learned quickly.

Their final oral reports were incredible.  They had the necessary HRM content, their language skills had clearly improved, and many of them projected their voice to the back of the room.  We were quite pleased.
Some of the groups used video; we are enclosing one for you.  Although not directly HRM related, it shows the job they analyzed (bartender in a coffee shop), and is an example of the flair and humor many of them had.

I can't say enough for what happened in our four weeks in Viet Nam.  Their development was enormous.  They worked hard, soaked up what we gave them, retained interest.  They jumped higher than we had ever seen with any group.  We are excited for them.  We'll be back. 

If you grew up in the '50s and '60s you probably revered Ike, JFK, or both.  You heard great tales of Truman, and of some of the great generals.  Yet after all these years, I wonder:  what could they have been thinking.
Let's cut to the quick. 

A modern external army could never win a war in Viet Nam unless they were prepared to lose an indefinite number of men.  The heat here is unbearable, the rain ruthless, the jungles formidable.  When I put air conditioning on in university buildings to make myself comfortable, the locals put on their sweaters.  Live here all your life and you become used to the heat.  After three weeks here my energy is sapped.  Were we not doing what is important, what we truly love, and what feeds our soul, we wouldn't be here.

Be 18 years old and come here to fight a war?  The jungles of the Mekong Delta must have been awful.  Day after day after day of inhumane conditions.  How could any of our generals (Westmoreland, of course, is at the top of the list, but he didn't lead us until 1964) have thought we could have won?  What could they have been thinking?  Had they emerged from WW II and Korea thinking we were invincible?  Korea? 
We've been in Viet Nam for 3 weeks.  We've been pampered, driven, taken care of, and received whatever we've asked for.  Our hosts are extraordinary.  We are here at the end of the rainy and hot season, so it is becoming marginally comfortable during the day, pleasant at night.
Yet this is Viet Nam, folks.  When it is hot, you can not imagine it.  My t-shirt  gets soaked in ten minutes outside.  The air is so thick that we rarely see Ho Chi Minh City from our 9th floor apartment, only ~30 miles away. 

If you've been reading the blog you saw the pictures and commentary from the Mekong Delta, and you've seen the videos of the downpours.  And the rain is letting up now.  Wait till rainy season.
What could they have been thinking?

Truman, Eisenhower, and Kennedy, while all military men, acted with political interests (domino theory, Russians, etc.) while President.  That's the job of the President.  They have military commanders who give military guidance.  Famously, Truman fired MacArthur when he wanted to escalate the Korean conflict.  Later on, however, someone forgot to act as President when he should have.
Let's backtrack for a brief history lesson.  (note that anything I say could be wrong.  I am an HRM Prof, not a historian.  What I write below is pieced together from anecdotes and my own reading.  I like to think it's accurate, but....)
Many others, most notably the Chinese and the French, have ruled Viet Nam for long periods in the recent past.  The French arrived in the middle of the nineteenth century and did not want to leave.  Who would; if you but visited Saigon once, you would not want to leave either.  The French legacy:  traffic circles, baguettes, and drink.
Prior to Sept. 2, 1945, the US gave tacit support to Ho Chi Minh in the battle for freedom.  However, when Ho declared independence, the French wanted to stay.  The US:  support our long time ally.  Ho went Communist; he became the enemy.

The French lost the next war (1945-1954--google Dien Bien Phu for details) but we called it a tie!  Rather than allowing a free Viet Nam, we divided the country, promising free elections.  We then installed the ruthless Ngo Dinh Diem, who canceled the elections.  We assassinated Diem.  OOPS!  War was on. 

By this time LBJ was President.  He knew from the first that this war would destroy him.  He had to move on the Great Society and Civil Rights as fast as possible.  Fortunately he was successful on those fronts.  His days, however, were numbered.
Sidebar:  Revolutions are started by those who feel oppressed.  The leaders use the working poor, the underclass, to fan the fire, to fight the oppressors.  1775 George Washington is no different from 1959 Fidel Castro (yes, there were significant differences later; I'm only talking about the actual revolt).
What was happening on the battlefield?  Jeanna and I received our best analysis from our tour guide in the Mekong Delta, a young woman with no axe to grind.
She made it clear:  in the 1950s and 1960s the wealthy wanted the status quo.  In different wars they were with King George and Batista.  Here they wanted the French, and later became one with Diem.
The poor were with Ho. 

After the war American soldiers complained:  "we were fighting for their freedom.  All we wanted was for them to let us know that an ambush had been set down the road.  They knew, and just let us walk into it."
Yet it was only in our eyes that we were fighting for their freedom.  The villagers who allowed our soldiers to be ambushed were with Ho!  Communist Ho Chi Minh, Ho Chi Minh who never trusted the Russians or the Chinese, Ho Chi Minh meant freedom from oppression. 

The villagers couldn't care less about communism.

Our generals:  what could they have been thinking?  First and foremost, Americans from New York, Portland, Tuscaloosa, and Des Moines, no matter how well prepared and equipped, were ill-suited to fight in the jungles and humidity of this country.
What could they have been thinking?  Our idea of freedom was so far removed from that of the villagers who had their own meaning of freedom.
And finally:  yesterday I posted pictures of my class on facebook.  A friend said, "they look so young.  Were we ever that young?"
Their grandfathers, at their age, were fighting for their freedom.  They were fighting us, they were fighting each other.  18 year old baby faced boys, five foot four inches, even smaller than I am, carried rifles and were killed.  Because our generals thought we should be here and could win a war to save the world for democracy.
This war ended Sept. 2, 1945.  Ho knew that we would not have the resolve to continue, that he was right.  The war was over Sept. 2.  But it took 30 more years for it to be complete. 

What could they have been thinking?

For me, if there was something I had to see/do while in Viet Nam, it was visit the Mekong Delta.  Growing up in the 1960s, the Mekong Delta was one of the most used phrases from the war.  But Delta:  the only deltas I knew at the time were the Mississippi Delta and Delta Dawn (if you're not old enough for that reference, you can google it, something we couldn't do back then).  We had no idea what the Mekong Delta was.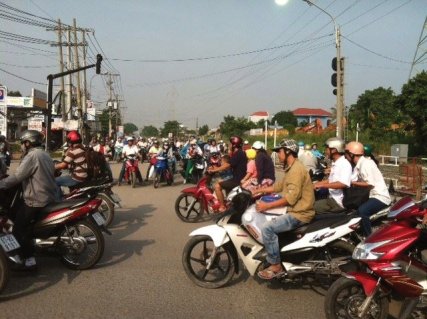 Jeanna and I had previously been on two of the great rivers of the world together, the Nile in 2008 and the Amazon in 2010.  Each time we were mystified by the great river, thrilled to be on it.  Fishing for piranha on the Amazon, and searching for idols on the Nile.  What would be in store for us today?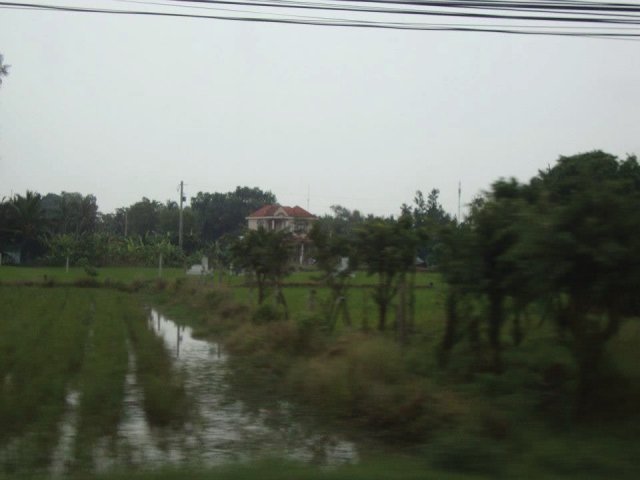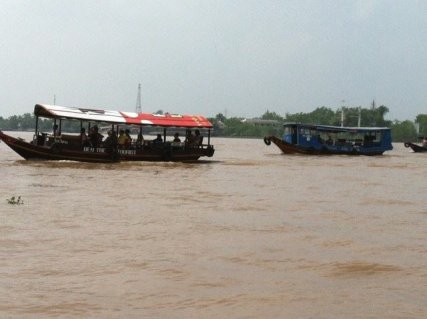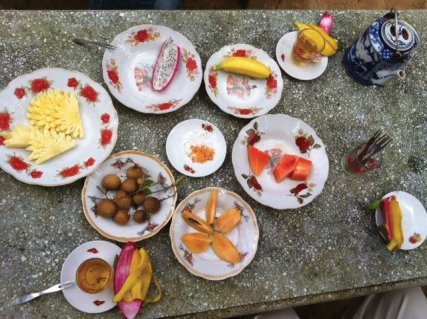 After >3 hours in the car from Binh Duong (if you're checking on a map, our actual location is Thu Dau Mot, just north of HCMC), we got to our destination, My Tho.  On the way we got the usual Saturday morning traffic, almost all motorbikes. And some views of the rice paddies.
Our tour guide, Trang, led us onto the first of the two boats we would be on for the day.  This is a pretty good example of what the Mekong traffic looked like that day; our boat was swift, the day was hot, the breeze felt great.  Not a care in the world.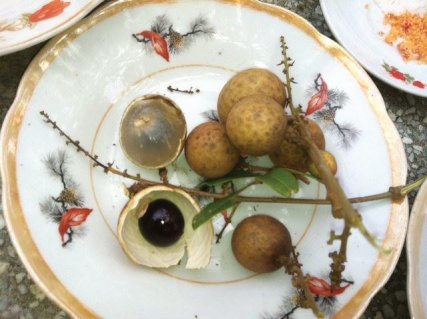 Our first stop, of course, was food.  This picture of desserts does not do it justice; we've already eaten half of it.  We learned to use spices differently.  Try adding a pinch of salt and then some cayenne pepper to your pineapple.  What a taste sensation.  My favorite, for a number of reasons, was the fruit that you peeled off the hard brown shell, revealing a jellied surface (top left) with the hard black seed inside.  You eat the jelly and delete the seed.  Delish!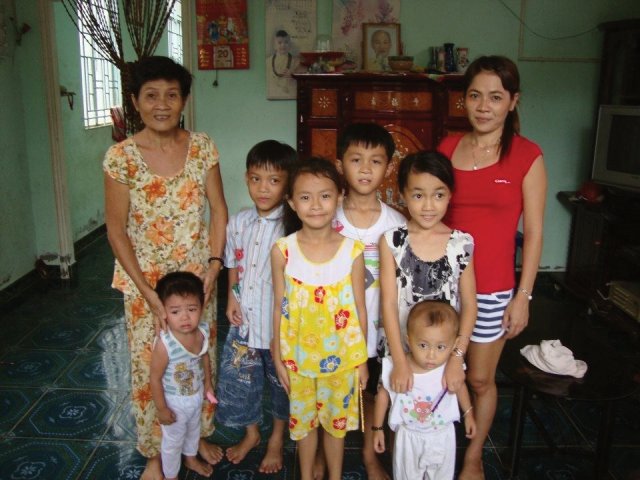 We took a donkey cart through the village, then a walk, and, out of nowhere, another deluge.  Yes, I love videos of the rain, so here is another one.  We have a picture of the delightful family that rescued us.  Jeanna always carries pencils for the kids, so everyone was happy.  We continued on our merry way.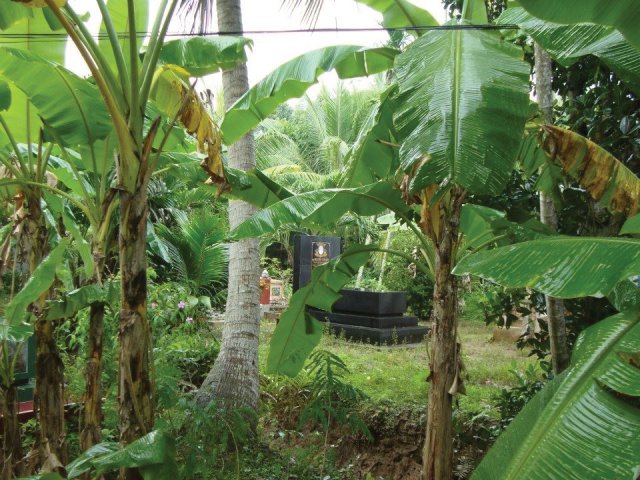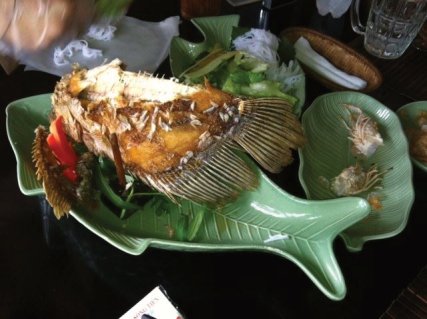 The walk through the jungle continued to yield riches.  One was the sight of burial plots in the jungle; if you look closely (try blowing up the picture) you can see this one amongst the trees and underbrush.  This was as think as anything we had seen in the Amazon.  Again, we are in the tropics, relatively close to the equator.  Iquitos in Peru may be closer to the equator, but it can't be rainier, stickier, or hotter.  All of this breeds the underbrush.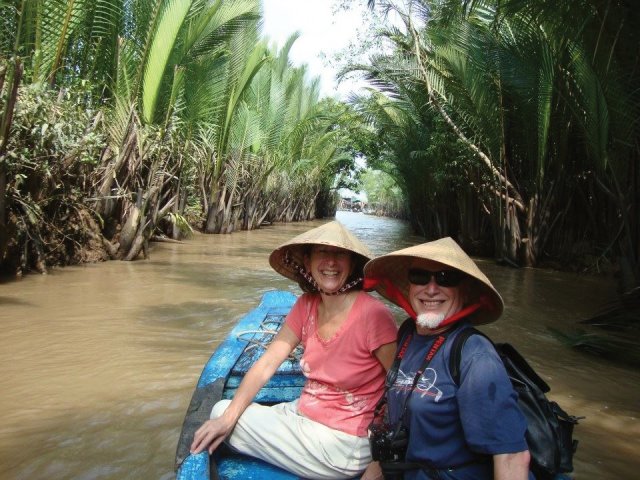 We finished the day with a full meal, topped by the elephant ear fish.  The picture does not look as spectacular as it was.  We ate at an open air restaurant, back in the towns, away from the jungle.  Yet where we ate was recently jungle also; there has to be a place to put all the people who live in Viet Nam.  We learned that ~20 million people live today in the Mekong.
This final picture is of us on a smaller boat on a Mekong tributary.  The happy couple.

I've spoken a bit about teaching here, but I want to do some more.  We are finished with two and a half weeks, 2/3 of the way.
They are, as we already said, young, learning English and business simultaneously.  It's hard to say which is more challenging.
Jeanna was uncertain what she would do prior to arriving, as well as the first few days.  She has now moved into a pattern of tutoring small groups, both English students (first and second year) as well as my business students.  When she finishes with her second set she moves into my class for our final hour of class each day.
They want to learn, yet it is a slow process.  We are simultaneously teaching HRM and English.  Teaching only one is a full time job, both for the faculty and for the students.  Teaching both:  sacrifices are occasionally made, but, in the long run, we teach and they learn what is necessary.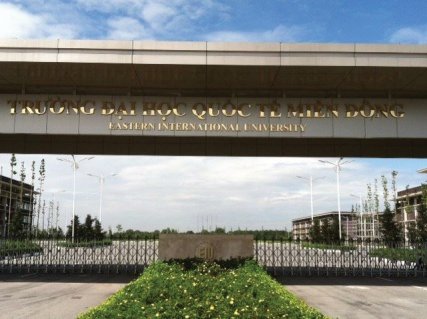 And they have fun.  The enclosed youtube of them celebrating at Vietnamese Women's Day is part of this.  Their dancing was between classes, half rehearsed, everyone having fun.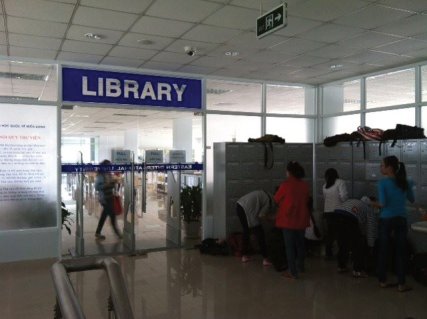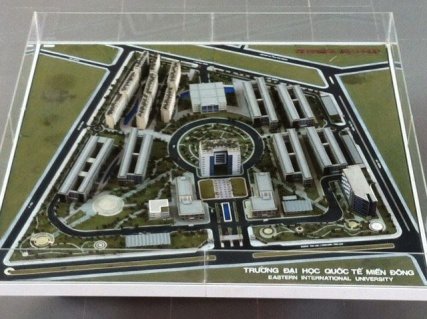 I have pictures of campus, including the entrance, campus model (about 5 years into the future, with the entrance at the bottom center), the modern library, still needing books, and the building in which I teach, quite airy to capture as much wind as possible and cool the place down.  Of interest to note in terms of the model:  there was nothing here about 3 years ago except jungle.  Some fierce fighting took place here 40-50 years ago in hot, awful conditions.  It remained that way for years, until Becamex, a major government corporation, decided that it needed education to move its company forward.  Thus became Eastern International University.
Finally there is a cute little video of Loi, one of the main administrators and a great guy, showing us his new lecture hall seating.  That's Jeanna in the background producing.  About 500 automatic seats there, the latest in modern equipment, scheduled to open in the fall.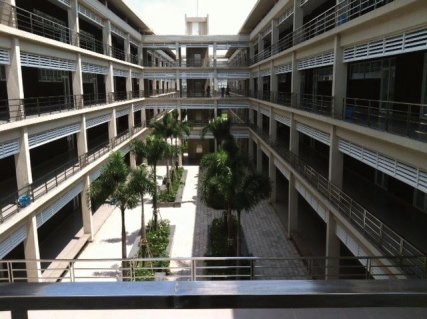 And I returned their first set of exams today.  They did well.  I was pleased.  They have presentations in a week; we'll look forward to that. 
This has been quite a week, and I haven't written for a while.  Will make up for that in the next 48 hours, probably going backwards, starting with today's adventures. 

But first, let me say that this has been really incredible.  Everyone has treated us wonderfully.  Students are great (first exam is tomorrow, a short quiz to let us get a feel for each other), faculty and administration helpful, and we are loving the people.  It is easy to see why no one (the Chinese, the French, the US) has wanted to leave.  But that is a political story for later.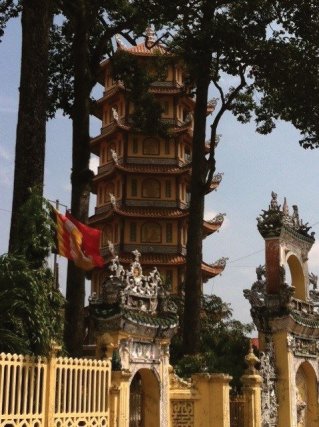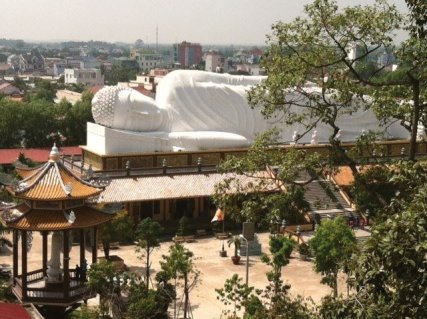 Today, Sunday:  one of the faculty members, Kim, picked us up at 9:30 and she and her fiancee took us out for >1/2 a day.  We climbed to the top of a pagoda, looking out over the temple with the Buddha on top.  Quite impressive.  They were praying as we were there, so we didn't go in.  Pictures show both the pagoda and the temple (click to enlarge the Buddha to get the full majesty of the presence).  It was already quite hot, feeling like 95!  And inside the pagoda, not looking to souvenir shop, we found a wonderful singing bowl and an exquisite wooden music maker, both made by hand locally.  Souvenirs are often best when not searched for.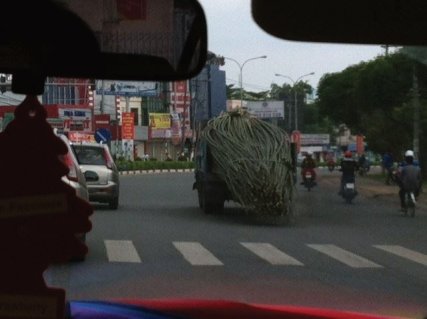 Next stop:  the university experimental bamboo growing research area.  Very interesting!  Best picture to show everyone is not where the bamboo is growing, but bamboo on a truck on the main road.  BTW, the drive to the bamboo area was on a small road to Cambodia, only ~200 km away.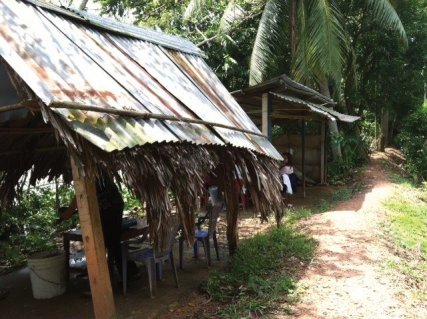 The final part of the day was lunch.  Son drove us ~10-20 km on a dirt road, to a place that even Kim had not been to.  It is a strict one-lane road, more narrow than the forest service timber roads in our NW mountains.  There are no turnouts, so it can get tricky.  They had asked us what we would eat; my standard is that as long as it is not still alive, and I know it is clean, I will try it.  So we started.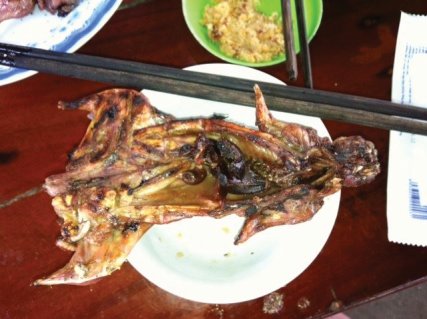 First, we made wonderful spring rolls, with rice paper unlike anything we have had home.  The piece de resistance of these was the tiny shrimp, full size, unpeeled, in a bed of onions.  This was along with greens and a vegetable that we could not identify, dipping all into a fish sauce.  
The grilled rat came next.  Quite spicy, and incredibly tender meat.  The picture is its underside.  Yes, they are bred for food, so have not been eating what Portland rats might eat.  We were told to not eat the liver; I was curious, but have learned to respect my hosts, so.....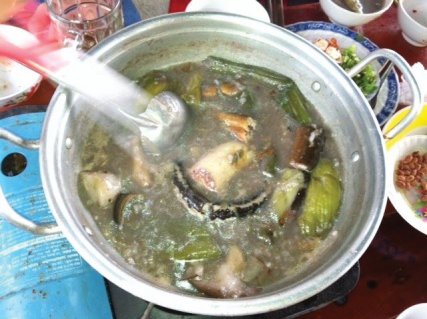 We thought we were done.  But.........the eel soup was next. WOW!  We had had eel many times, and again only a few nights previous.  But this was as tender as could be.  And tasty.  We were already stuffed, so could not finish.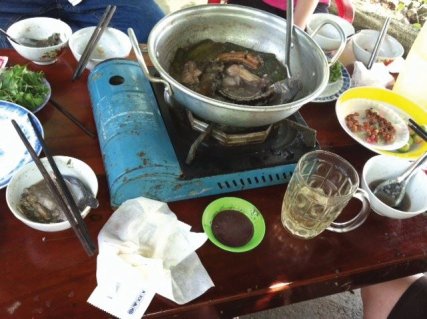 Why was the food so good?  It was all local, all essentially at a family's home.  There were probably 75-100 motor bikes there; we were the only non Asians.  Everyone smiled, some asked us to take their picture.  No one expected that the Americans could not eat local food, so we got their traditional Sunday best.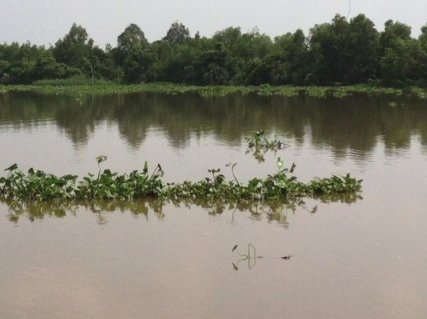 And we ate right on the banks of the Saigon River, no more than 10 feet from the water.  We ate with all the local people.  It is why we travel.
One of the top ten meal experiences for me.  Ever.

We grew up in New York.  For 25 or so years we thought we knew how to drive, how to cross streets.  Don't cut off a cab driver, run whenever you can, be in as much of a hurry as anyone else.  And by all means, when you're driving, stop at most red lights, stay off the sidewalks and don't drive the wrong way.

Then we moved to the Northwest.  In Seattle they gave out tickets for jaywalking, whether there were cars around or not.  Cars waited patiently for people crossing the street, no matter how much it backed up traffic.  How bizarre.   They called it civilized, lauding everyone's behavior.  Portland was no better.  I wanted my NY license plates back, so people knew what to expect of me.
What are the rules in Viet Nam?  Quite simple:

1.  Bigger is better.  The larger vehicle always has the right of way.  
     a.  People have the right of way over vehicles.  Apparently it is bad karma to hit pedestrians, so that doesn't happen.  People are watched as they cross, but never hit.  And no one blows their horn at pedestrians.

2.  Except in the rare case of a traffic light, don't stop.  Even that's not always the case.  Don't stop applies to pedestrians as well as vehicles.
3.  Join the party.  Regardless of how many motorbikes or people, continue into the intersection or circle.  The Viet Nam dept of transportation built the road for you, so use it.  Use it now!
4.  Motorbikes use the right side of the road, autos the left.  Turn right from the left side.  Not a problem.  The only vehicles in the right are bikes (smaller; see rule #1), so they give way.
5.  Blow your horn to let others know where you are and what you might do.  As a New Yorker, I am particularly fond of this one.  Portland drivers are much too polite.
6.  Are you set to enter a road, yet need to go the other way on a one way street?  No problem.  Either
     a.  drive the wrong way on the street, knowing that no one will get in your way (see this at the 22 second mark in the enclosed video), or

     b.  drive on the sidewalk. 

7.  Crossing streets:
     a.  wait for a slight opening.  Any opening will do.  Waiting for a large opening may take 3 days.
     b.  walk at a slow measured pace.  You may want to look at the traffic, but that is irrelevant.  They will look for you.
     c.  do not run.  Running will surprise drivers, who can no longer predict where you will be.
     d.  do not walk backwards.  This is the worst thing you can do, because they have already planned how to cross behind you, missing you by six inches.
     e.  do not stop.  This is not as bad as walking backwards, but still frowned upon. 

     f.  remember:  we're not in Kansas any more, so cars and bikes will not stop!

This is a much smoother traffic flow than in America.  If cars had to stop whenever people crossed the street, no one would ever get anywhere.
Hopefully this gives some idea of the street game here.  In case you need more, Jeanna took a video just for you, from a circle opposite the market in Ho Chi Minh City.  Note how all the rules are in play; traffic blends, a bike goes the wrong way, and during the final 30 seconds you can see how to cross the street.  I'd love to bottle it and bring it to Portland.

So how did we get to the center of the circle?  We waited for a little old lady.  We got on each side of her, staring at her, ignoring traffic, and doing exactly as she did.  We crossed, thanked her, and she smiled at us.  Yes, a little old lady did her good deed for the day, walking two hapless Americans across the street!

/